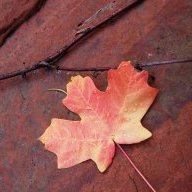 Life really is better Here
.
Joined

Apr 20, 2013
Messages

703
When we went in for a backcountry permit into this zone (Kolob Ranger Station) the rangers said they had never issued one before that they were aware of. Our original plan was to finish the Cross Zion trek from Weeping Rock, across the East Rim. Then extend it to the Barracks, cross the river and up across Shunes Hollow to the white knolls and Canaan Mtn. Then descend past Eagle Crags and shuttle back the the visitor center parking. We planned 6 days.
Weeping rock was closed because of rock fall so we opted to just do three nights in the southeast canyons area and drive around to Canaan Wilderness for 3 more.
Why I mention this is that the rangers told us they prefer if we don't put it on the net because it is a bit unknown still. Which is one of the reasons I am rethinking about what I post, where, and why I am doing it.
Ironically, East Fork Virgin River was raging and we couldn't safely even go through the Barracks, let alone go 2.5 miles upstream to the first south side exit. We got lucky not having to turn around and hitch back to the visitor center.
Well said.
So from where the first photo was taken... for what I remember the west to east across that area would be a route finding adventure- Kudos, and then the idea of tying all of those together. Sweet! Sad that you were not able to fully connect them together.
We used to spend time in those parts, plus the parts north, and then cool off in the afternoon in the pools outside the tunnel at Pine Creek. Used to rarely see a soul. I should take my kids to experience what I did out there even if there are a few more people.