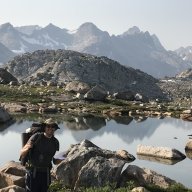 Joined

Mar 1, 2015
Messages

529
We are hoping to do the Lower Death Hollow route from Boulder Mail Trail to Hwy 12 Bridge next week (2nd week of June). I've had this tentatively planned several times in the past and have always had to cancel for one reason or another. Anyway, I have two questions if anyone has been down there recently:
How much water should we expect in Death Hollow, the Escalante River, and Sand Creek? I'm worried about the heat on this hike, so I'm hoping there's enough water in the Escalante to at least cool off with (soak a hat, etc). In fact, if the Escalante has enough water to cool off in, we may instead do the point-to-point between the town of Escalante and Hwy 12 (so that we have constant access to water), with a side trip up Death Hollow.
Are the bugs (mosquitos? gnats? biting flies? no-see-ums?) getting bad down there yet? If so, if anyone has any recommended campsite locations down there to avoid the bugs, please let me know!
Thanks in advance for any feedback!