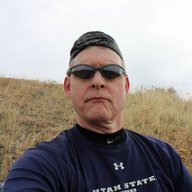 Joined

Dec 23, 2013
Messages

2,703
Hey everybody, I need some help. I know what you are thinking, "That seems pretty obvious." I'm thinking one, or perhaps many BCPers might be able to tell me what my problem is.
I rode up City Creek Canyon this morning, still feeling a bit sore from my Lone Peak hike, and while heading up to the rotary parks, I was passed by several (more like 20) e-bikes. Now I've had issues with these since they started showing up on the road a few years back, but today I found myself at a heightened sense of resentment towards them. One gentleman, on a steep hill just after the two mile marker, rang his little Peewee Herman handlebar bell at me as he passed me on my left. WTF! He was all smiles as he offered me a "Good Morning." I'm not sure what I mumbled back to him under my breath, but I know it wasn't good.
Then along about the 3.5 mile point, another guy passes me with an e-bike that has the fat snow tires on it. I believe this is the first fat tired e-bike that I have noticed. Of course, there is no snow to ride on/through on this hot day. I kind of felt like leaping/flying over, I pictured myself swinging over on a pole like the Pole Cats in Mad Max, and relieving him of his drivers duties. So what gives? I mean it is possible that in ten to fifteen years I might find myself using an e-bike. So why can't I get past this? Analyze away people, give it to me straight. What needs to happen for me to change my attitude? A swift kick to the head perhaps? A good smack with a shovel? Maybe bamboo shoots under my finger nails?
Now let me apologize to any forum users who may be riding e-bikes at this time. I am trying to do the right thing here.
My second issue is this: After riding up City Creek, I took my daughter down to the Beans and Brew located on the northwest corner of Liberty Park here in Salt Lake for a Mr. B's. A Mr. B's is a frozen coffee drink, think coffee milkshake, that I just love. It comes in three sizes - 16oz 24oz and 32oz. We always order the large and split it. Now we do this maybe twice a summer when the the day is going to be a hot one, one that is always over 100 degrees. It is a tradition for me that goes way back, except for last year during the pandemic. So I graduated college back in 1987, and starting in the summer of 1988, I began to go with a friend to what was then Grounds for Coffee, and order a Mr B's. The coffee shop had a lot of character to it too, with and island in the middle of the shop where you placed and received your order. They kept the inside a bit on the darker side, and they had bookshelves along the wall that contained books obviously, but also board games like chess, checkers and others. The crowd tended to be an eclectic one, which was one of the pluses for me. Motorcycle riders were a staple, along with some goths, and of course folks that wandered in from the park across the street. The outside seating always included patrons with their dogs, or maybe a parrot, and even once someone had a ferret.
Well, eventually the Grounds for Coffee became a Beans and Brew, but the layout of the shop didn't change one bit, nor did the clientele, and I still enjoyed heading down during the summer months for my favorite drink.
So in the summer, maybe it was even in the late spring of 2020, during the pandemic, the store closed for a few months to remodel. I didn't think too much of it at the time, but today when my daughter and I went down and I saw the inside for the first time, my heart sank. The inside reminds me of a fast food restaurant now. There are no bookshelves to be had; no one was reading, or studying, or playing board games. The shop was well lit now of course, and they seemed to be doing good business like they always had, but it just didn't seem right to me. The personal service that existed pre-2020 seemed more conveyor belt style now. I will say though, the folks sitting outside were the same eclectic crowd that had always frequented the old Grounds for Coffee, just seemed to be a few years older than they used to be.
So once again, put your psycho-analyst hat on and tell me why this matters to me. I know change is necessary, change is good, don't stand in the way of progress. Help!