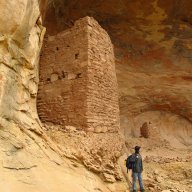 Not all those who wander are lost
Joined

Feb 11, 2012
Messages

37
After finishing up a chainsaw project for my work at Potash near Moab, myself and a few co-workers decided to take a small trip to Comb Ridge for our few days off. I had been to Comb Ridge before and I was anxious to get back to see some familiar places and some new ones. We left our basecamp near Monticello in the afternoon and arrived at Comb Ridge about an hour after and set up camp at a spot I knew of near Fishmouth Cave. \
That afternoon myself and friends went up and checked out Fishmouth cave for my second time and their first. My co-workers being from the south and mid-west had never seen Anasazi ruins so I was happy to show them a few. The first ruin is found a short ways up the canyon to Fishmouth and is just a few walls left standing . As the canyon heads up to the cave there is a small cave on the right side that has no ruins but has some pretty spectacular rock carvings of animals, their foot prints, and the phases of the moon. After checking out the smaller cave we headed up to Fishmouth which is pretty spectacular. There are a few ruins along the side of the cave and the cave itself is about 100 yards wide and at least 100 feet to the ceiling which is always dripping with water. Unfortunately the entire back of the cave is covered with graffiti from the many visitors Fishmouth receives which detracts some from the natural beauty of the sandstone but what can you do.
The next day I had planned to go visit Monarchs cave but my crappy map made it a bit difficult so after a few wrong turns we decided to just take a hike to the top of Comb Ridge to get a nice view of Cedar Mesa from there. After a short scramble to the top Comb Ridge delivers one of the best views of Cedar Mesa and the surrounding area available. From there we could see pretty much all of the east end of Cedar Mesa all the way up to Bears Ears and the Abajos. From the top we decided to take a different rout down out one of the canyons and I'm glad we did for as soon as we reached the bottom of the canyon we found the most well disguised ruin I have ever seen. It sits perfectly flush with the canyon wall and if it didn't have a window you probably wouldn't notice it at all. It definitely made alternative rout worth it.
On the last day of the trip we decided to go south and actually visit Monarchs cave this time and then drive out the road south to 191 back to Monticello. Monarchs cave is one of the more pristine ruins I have been to and sits high up in a sandstone alcove above a huge pool at the bottom of the canyon. After checking out the ruin and using my sweet Platypus Gravityworks water filter at the pool (we had just run out of water that morning) we headed south down the road and back to Monticello. All in all a good trip. Das Pictures...
View attachment 4367