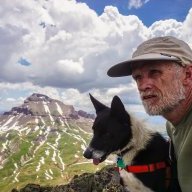 Joined

Mar 6, 2014
Messages

563
For the 2015 spring break outing with my wife and kid we again went to the Maze. The plan was an attempt to retrace a complicated and remote route Sonja first did solo 24 years ago. Over the years she has been reminiscing about the experience she had back then, weaving in and out of canyons, gambling for water sources she didn't know for sure existed, watching bighorn rutting from her sleeping back, and working out how to negotiate drop-offs and dead ends.
First we had to get to the Maze Overlook. Our van was obviously not up to the task, but with a light load of skimpy bivy gear and 5 days worth of food we rode our bikes the 28 miles of mostly downhill in a few hours. A late start from Moab saw us finishing in the dark.
The backpacking part of the route descended Horse Canyon all the way to the impassable limestone pour-off near the Green. After spending the night by the reliable water down there, we worked on finding the elusive southward exit onto high benches and threading around the head of several unnamed canyons in the literally untrodden territory around what we call Little Pete's Mesa. Following this came a hard to find down-climb into Jasper, right above this canyons terminal limestone pour-off, and another night by pools of clear water.
The third morning started with an immediate exit from lower Jasper, as this canyon is a well known out-of-bounds/no travel zone. Having actually spent the night down there was already a potential breach of park regulations, but we needed the water. An exhilarating traverse and subsequent climb to the top of Pete's Mesa followed. Alas, shortly after summiting, we had to descend again to catch the cairned route into the Maze proper and a last camp near the Harvest Scene.
The final day featured a re-climb to the Maze Overlook and our bikes, then the ride back up to Hans Flat.
About 56 miles of biking, 40 miles of hiking over 5 days. Only people we saw was within one mile of the Harvest Scene.
The inspiration for Sonja to first do this route in 1986, and us to repeat it this year, was her friend and ranger colleague back then. Several decades later this tireless ranger is still at Hans Flat and out of respect for his tremendous dedication to the Maze no maps or GPS files will accompany this report.
A fantastic trip to what I will go out on a limb and call the most remote part of the Maze District.
The bikes and packs with everything for 5 days
Down the Flint Trail at dinner time!
Bagpipe Butte and Big Water Canyon.
Some are still snoozing.
Waking up near on the edge of Horse Canyon
One of many memorable scrambles on the classic Maze Overlook trail.
Horse Canyon is more than 10 miles on my GPS to the bottom...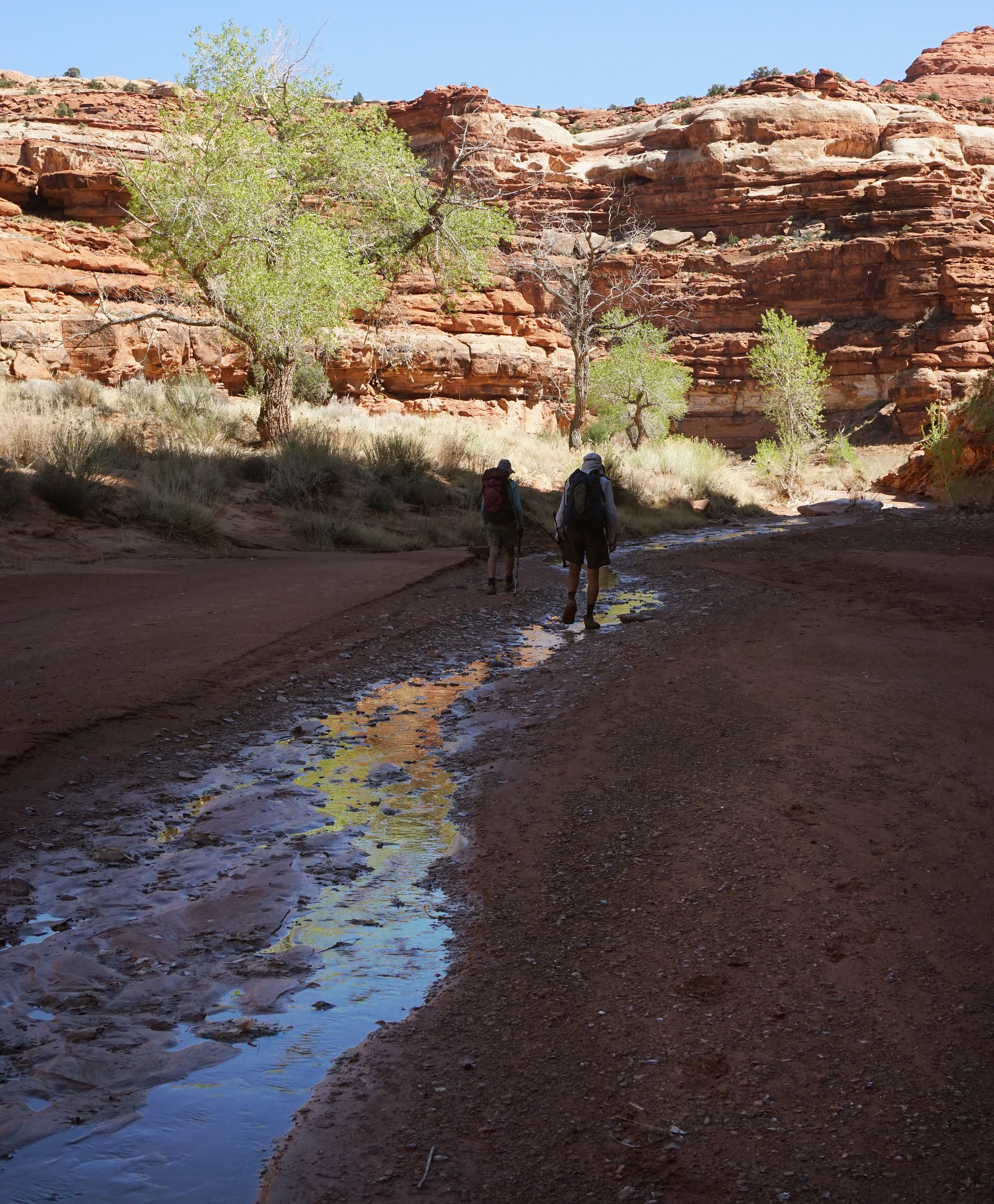 ..thankfully there are many intermittent streams and springs...
..even by our second camp..
..a few minutes from the big drop-off near the river. Here we are heading down to it.
..and getting closer..
..to a narrow section in the limestone...
..until suddenly you can't get any further..
..unless you jump 60' into this adequately deep pool.
To be continued.
Featured image for home page: