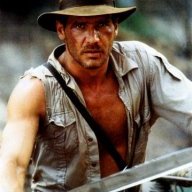 Joined

Oct 8, 2013
Messages

11
Flying in to Durango 5/07/14 to hike the Canyonlands. I have looked high and low for a good 8-day loop trip using one vehicle, all across SE Utah. Seems like most everything is a hike in and back out, shuttle or 2-3 day loop. I have an idea to hike from Squaw Flat over to The Maze. I plan on looping around Cheslar Park then heading down the Lower Red Lake Canyon Trail to float across to Spanish Bottom (using a cheap inflatable boat just big enough to keep me dry). From here there seems to be plenty of options from Doll House Camp and Chimney Rock area. I'll be hiking with another friend, who I haven't convinced that this could be an incredibly awesome, but difficult trip.
We should arrive at Squaw Flat/ Elephant Trailhead by 5-6 pm. and hope to get down trail to EC-1 or thereabouts. Lots of decisions....
Let me know what you think and if you have any ideas.