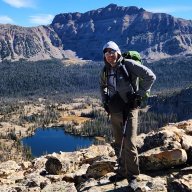 Joined

Aug 6, 2019
Messages

344
What's the earliest/latest you'd go for ~5 nights in the Needles district(plus a day or so for some dayhikes at Arches if there's time)? As far as dates, I'm up for for anything between late January and early March.
I'd like as much solitude as possible without having to wear microspikes the whole time...
Not sure if road conditions should be a big concern or not(?). I really just need to get to and from Squaw Flats.
Thinking Peekaboo Trail to Salt Creek, in/out down to Wedding Ring Arch, plus Angel Arch, and back to Lost Canyon Trail.
Then Lost Canyon to Squaw Canyon to Chesler Park after Druid Arch.
Maybe circle back around and come back to Squaw Flat via Big Springs Canyon Trail.
Think that's about 70ish, total.
I suppose the big question is water. Does Salt Creek actually have flow? What about around Chesler Park? Do I need to be carrying my usual 1.4L, or is it going to be more like 4.1?
Temps aren't a huge deal, but trail conditions could be.
Don't I need a bear canister, too?
Thanks!

Edit: After studying the map more closely, I can make this work if the springs marked on the NatGeo map are flowing(my assumption is that they will be in winter), but it means hauling quite a bit of water between them. Any other reliable sources?
Last edited: