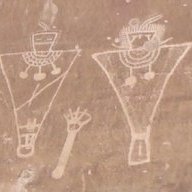 Joined

Dec 31, 2014
Messages

52
These pictures are from a 2010 trip down to Canyonlands (Island in the Sky district) and Dead Horse State park with the family, it was my kids first exposure to camping in the desert and they loved it. I really wanted to go on some of the White Rim Road this time out as I have read so much about it. But as you will see shortly, that wasn't going to happen.
Here is the view from Grand View Point Overlook.
Here is a shot looking down the Shafer Trail Switchbacks. I couldn't wait to take a ride up these. We drove all the way out near Moab on Road 279 which eventually connected to Pot Ash Road (142) so that we could drive all the way through the bottom and drive up these switchbacks. It was pretty amazing, except the evaporation ponds.. This is looking down the day before we actually made the drive up.
It wasn't too bad except it was a bit more stressful considering I had my twin 3 year old's in the back.
In Southern Utah this is when you know an amazing display of mother natures power is about to be revealed, and it did not disappoint.
Signs of some serious water damage ahead but I never expected the amount of damage that we found.
Yes, the Mineral Bottom Switchbacks are pretty much gone.
It was pretty amazing and to this day there is a picture of this in my kids playroom and they still call this the broken. They really want to go back and drive on it now that it's been repaired.
Sums it up pretty well..
My daughter playing on her favorite truck.
Stopping for lunch before the assent. It's no Jeep but it's all locked up and get's us out into my favorite playground, Southern Utah (pretty much anywhere).
It was pretty funny, the guy in that black SUV made it to the first serious switch back and turned around. There are a few that require 3 point turns in longer trucks like mine.
It was an amazing trip that the kids still remember. In 2014 I visited and hiked the Needles district, I plan to visit the Maze in March, can't wait!
Featured image for home page: