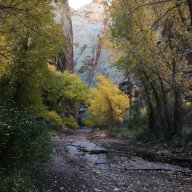 Joined

Mar 27, 2015
Messages

164
So in the "how to make BCP better" thread I said that I needed to put more trip reports in. So here is the start of a whole bunch of trips that I did last year. This past December me and my brother ran down to Bicknell to do a easy beginner canyon. The trail starts at the Sunglow Campground and works its way to the tops of the cliffs above it.
The canyon begins by walking down a wash for a little ways.
The first two rappels were natural anchors and the last two were off bolts.
Once we got to the first rappel it was one rappel after another. I could see why they call it Sunglow. The sun hit the rock perfectly. My pictures don't do it justice. If you are headed to the Capitol Reef area and looking to add a short canyon to your trip I would recommend this one.