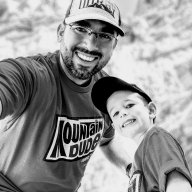 Life Elevated - Rising Higher
Joined

Feb 25, 2013
Messages

596
Blake Merrell submitted a new resource:
Canyon Cookies
- A delicious, energy-packed, treat for all your adventures
Canyon Cookies

½ cup butter, slightly softened
1 ½ cups creamy peanut butter
1 cup brown sugar
½ cup white sugar (can substitute with Honey)
3 eggs
1 tablespoon vanilla
2 teaspoons baking soda
4 ½ cups old fashioned oats
2 cups of favorite dark chocolate chips (one bag of Guittard Chocolate Chips!)
2 Cups of crushed Macadamia nuts or Almonds.

Preheat oven to 350F.

Cream butter, peanut butter, and sugars. Beat in eggs and...
Read more about this resource...