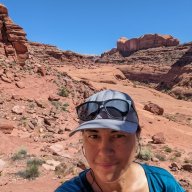 Joined

Jan 11, 2018
Messages

519
Logistics
Start/end:
Bullet Canyon parking lot (with a shuttle ends at Sheiks trailhead)
Mileage:
~17 miles
Elevation gain:
not much
Navigation:
helpful to have a GPS to make sure you don't miss Sheiks Canyon
Filterable water:
seasonal, but don't count on it
Permits:
self-service permit for day trips, overnight permits
reservable
Dogs:
allowed on a leash
Nearest town/gas:
Mexican Hat, UT
Date hiked

:
03 Feb 2018
Approximate Route
(dotted line = optional shuttle, green dots= ruins/pictograph sites mentioned )
With the (arguably illegal) executive order to downsize Bears Ears and Escalante National Monuments I decided to focus on hitting the highlights before they were no longer protected. Like much of Cedar Mesa, Bullet Canyon is known for its high density of Anasazi archeological sites. I neglected to bring a bike, so I parked at Sheiks and got the road slog out of the way first.
I passed Rim Ruin and scrambled down the short water chute, careful to avoid the ice.
The canyon opened up with towering striated walls.
The next major ruin was Perfect Kiva and one of the few, which the BLM encourages entry into.
Another 20 minutes down canyon was multi-level Jailhouse Ruin (my favorite of the lot).
After Jailhouse, Bullet Canyon empties into Grand Gulch.
Some of the minor ruins along Grand Gulch had pottery shards.
Just before the Sheiks turnoff pictographs filled the walls.
I headed up Sheiks and encountered one of the few remaining pools on the hike. The canyon followed an interesting water course until opening up again into a shallow sandy canyon.
Near the top of Sheiks was Yellow House Ruin, which still had an intact roof.
I drove over to the Citadel parking lot and caught the final light on Road Canyon before calling it a day.