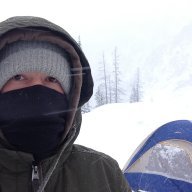 Joined

Sep 12, 2014
Messages

1,873
In October, on our way down to the Grand Canyon. We didn't get quite the days that we wanted for our hike in the Grand, our first night was monday in stead of saturday, but we made the best of it, and stopped along the way down. It helped to break up the drive some any way. We got to the trail head after dark on saturday, camped there, and then hiked after breakfast through the morning. I think it was just some thing like three hours out, two hours back. We still had a few hours of driving to do to Mather camp ground on the south rim of the Grand Canyon.
Packing up camp that morning. Beautiful day.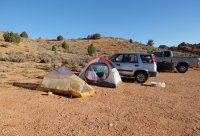 The wash leading out to Wire Pass.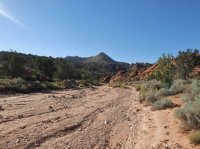 Walls first start to rise. They'd fall away, but come back very quickly.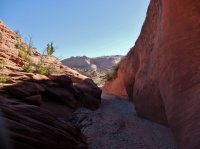 And then we entered Wire Pass proper.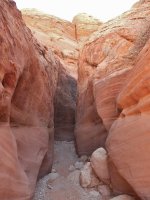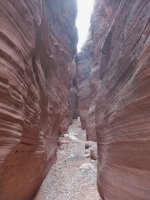 A couple minor obstacles on the way down. There was a boulder that was a bigger step, but a worse picture.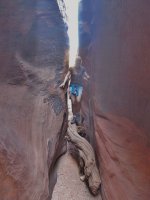 Wire Pass stays narrow until it's confluence with Buckskin Gulch where it opens up some. Pretty rocks, Wire Pass is the slot on the left.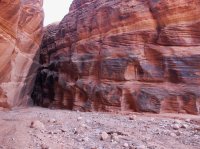 We came across a couple other day hikers at the petroglyphs at the confluence.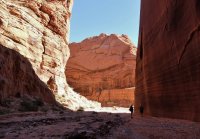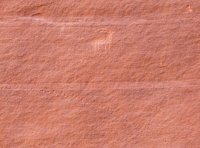 The wave here goes all the way to the end of the wall in the picture. I liked it.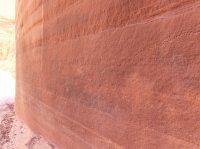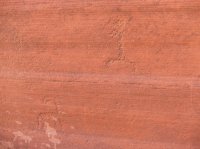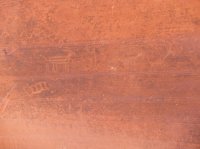 Starting down Buckskin from the confluence.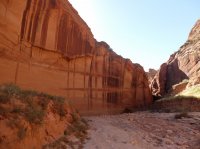 Shortly we came to a pool. On the way back i think we counted sixteen each within a minute or two of each other, and then no pools for quite a long ways. This first one was the deepest, up to my sternum. I don't know how recently it had rained before we were there. Most of the way was still damp mud though.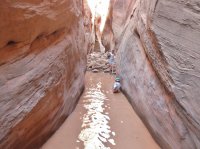 Slot continues.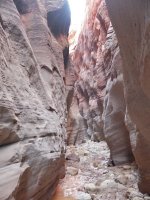 Wading again. The rest of the pools were only mid thigh deep, many of them only shin deep.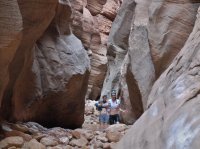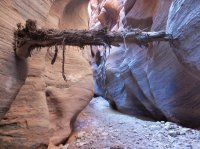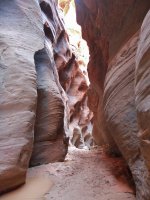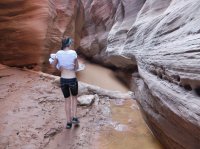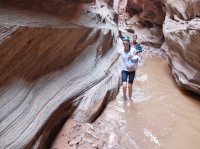 Brittinei, skeptical.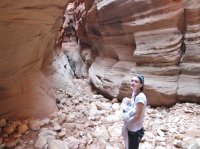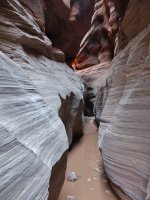 Looking up.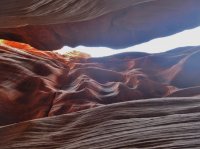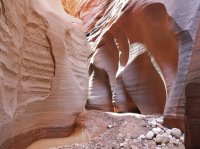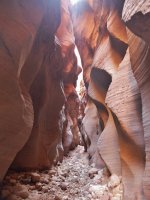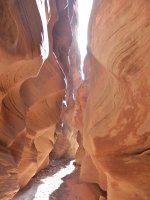 Log jam.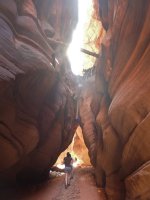 Under the jam.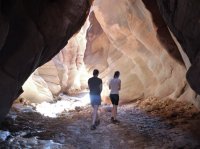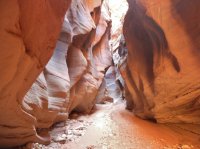 After a ways the slot opens up a little bit. It did this a couple time through the section we traveled. Here are a couple who were backpacking four days to Lee's Ferry. We leap frogged with them a couple times before staying ahead of them until we turned around.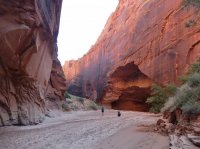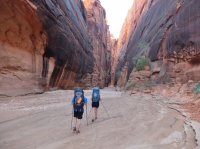 Odd perspective.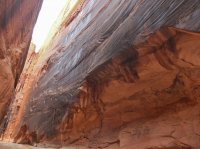 Narrowing again.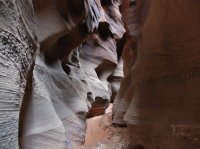 Stripes.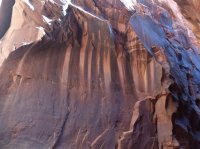 Ellen in front of a giant wall.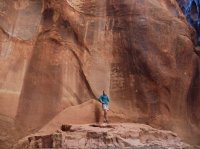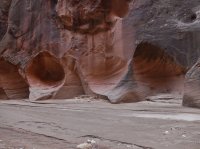 Sun shine.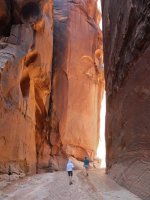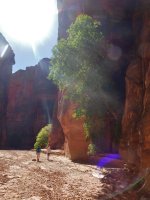 Cottonwoods as we entered a short stretch with some very large boulders we had to climb.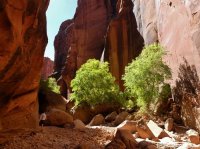 A little ways beyond the boulders the gulch slotted up again, and then there was an other pool. The girls weren't interested in getting their feet wet again. Their shoes had mostly dried out, and it was quite a ways back to the other group of pools. We'd almost used up half our time any way, so we started heading back.
Here the girls are descending the boulders, Ellen in mid air.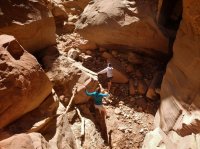 Looking back up. Big rocks there.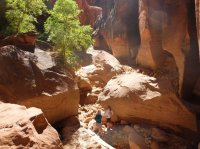 Looking up the gulch.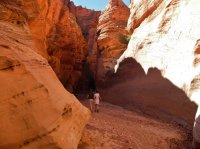 It turns out a pair of girls makes for great perspective.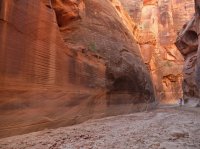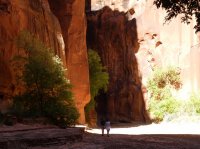 Brittinei in front of a deep under cut.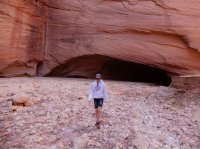 Black rocks.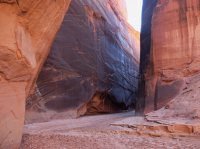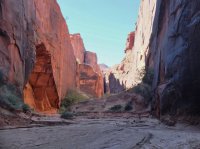 I loved the lines here.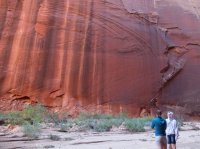 And here.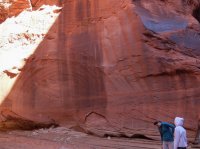 Back in to the slot.
Stepped in the mud. Very disappointed about it.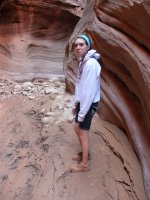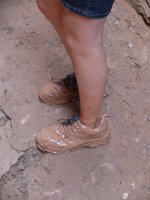 Is there a proper name for those little pockets?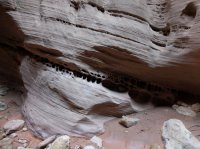 And here i am crossing back through that first deep pool. I also happen to be breaking my ipod in this picture. Took it out of my pocket on the way out, but not on the way back.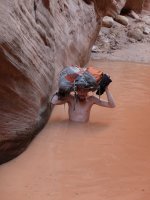 On the way out.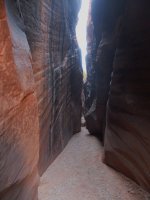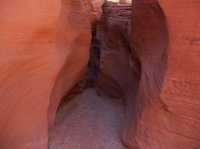 I saw less people than i expected for the number of cars that were at the trail head by the time we got started. But may be some of them were headed to Coyote Buttes, and may be some of them just stayed ahead of us for the whole day. I think we saw may be ten people total while we were in.
As we were exiting, we were passed by a group of three young men about the time that we were going through the pools again. It was the last day of their backpack from Lee's Ferry. I asked the first one that came by where they were coming from, and he asked me what we were doing also. I told him that we were just hiking for a day on our way to the Grand Canyon for a week. He replied 'this is way cooler than the Grand Canyon,' a comment that stuck with me through the rest of the trip, and beyond. May be i just didn't see enough of Buckskin Gulch. I thought it was great. But i've seen enough of the Grand Canyon to wonder if he had ever seen it. Or if he had, if he had set foot below the rim. I'm still baffled.
Featured image for home page: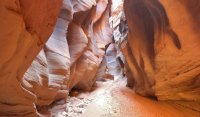 Last edited: