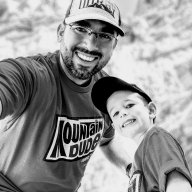 Life Elevated - Rising Higher
Joined

Feb 25, 2013
Messages

600
To be honest, I had not idea what this day would bring. Armored with some internet beta, a map, and a desire for adventure, I lead 30, unassuming, people on a blind mountain bike ride. All I knew was that there would be a lot of climbing on this trip. I did know that there would be a lot of uphill sections and I did my best to warn the group beforehand. Still, I think some were cursing my name while they were pushing the bike up the mountain! haha
Though some might have been cursing my name for the uphill portions, I think it is impossible to not enjoy the downhill sections! WHAT A BLAST! Some sections are a little rough, and many of us walked those, but, man alive, a lot of that downhill trail was fun.
The total distance we rode was about 8 miles. It was a great workout, and once we got to the top of the 4x4 road, it didn't take long to finish the last 2.5 miles of downhill riding! The trail was a blast, and the views from the area were breathtaking!
This was my first time ever on a real mountain bike trail. I had a great time with the whole trip. Even when I was pushing my bike up a trail, it was just nice to be in the mountains, enjoying the scenery. I even enjoyed the ride along the road. It was 3 miles or so of pure uphill riding. It was great exercise and I was proud of myself for not getting off and pushing my bike. i made the whole ride without walking!
Once we were to the top of the route, it was all fast and fun from there on down. The ride was beautiful and thrilling all at the same time. Before we knew it, we were all back at camp. It was a day of real mountain biking. I know I felt accomplished after the trip!
To celebrate I took my new Tenkara Fishing Rod and gave it a go at fishing. Sure enough, an hour later I had caught 5 trout! It was my first time catching a fish Tenkara style! It was a lot of fun!