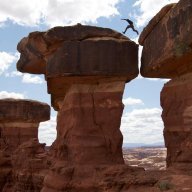 Joined

Jan 17, 2012
Messages

328
What has become something of a winter tradition of mine,
drclef
and I set off for Broads Fork last weekend. Mixed terrain, diverse geology, open vistas, and grand views of one of the Wasatch's most spectacular cirques makes this destination one of Northern Utah's best.
View larger map.
Approximately 1.5 miles into the 3 mile jaunt, the landscape transitions from thick, mixed conifer forest to open meadows of aspen and willow. Looking back to the north, that's Big Cottonwood Canyon with a Wildcat Ridge backdrop:
The hike gets "real" within the last half mile of the cirque. This baby gets steep! Twin Peaks in the distance:
Ski tracks filled the valley and some of the taller gulches and couloirs. This is the vantage from our turnaround point. From left to right, we have Dromedary, Sunrise, and Twin Peaks. Broads Fork is a great jumping point for summit junkies.
Instead of following our tracks and the beaten path right back to the trailhead, we decided to explore the eastern part of the valley a little bit. Here's looking northeast towards Mt. Raymond and Gobblers Knob:
For how beautiful aspens can be in autumn, I actually find them even more enchanting in the winter. This was one of my favorite little sections of the route, taken moments before
drclef
succumbed to gravity and took a graceful little face plant into the snow
At only 6 miles round trip and a gentle 2200' of elevation gain, this is a magnificent winter trek that fans of the Wasatch shouldn't miss!
Featured image for home page: