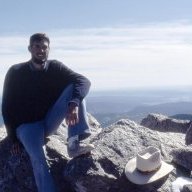 Joined

Feb 1, 2014
Messages

408
My wife and I drove out to South Carolina at the end of February for a wedding. The drive involved taking I-70 across Missouri. Having visited Onondaga Cave State Park (south of I-70 and west of St. Louis) (
https://backcountrypost.com/threads/onondaga-cave-state-park-missouri.5249/
) and being thoroughly impressed with it, I began looking for another cave to visit on our transit across Missouri. The one I finally chose was Bridal Cave. It's on the shore of Lake of the Ozarks south of I-70 and east of Kansas City in a private park called Thunder Mountain Park. It's claim to fame is that more than 3000 weddings have been performed inside the cave since it was opened to the public in the late 1940's. I honestly wasn't expecting much but ended up being very impressed. The cave isn't as big as Onondaga but there's even more fancy cave formations here. I thought it was very nice.
The weddings are performed in front of a formation called 'The Wedding Cake' not too far inside the cave. There's a small room there that would hold maybe 100 people if you shoe-horned everyone in.
Many of the other formations had names but I didn't take notes. Just pictures. So, here's some of the others.
This is called "Mystery Lake". The mystery is that no one knows how or when the ladder and other debris got into the water. Speculation is that it dates from the earliest exploration of the cave which was somewhere around 1910.
The big flat wavy formation on the upper right of the picture is called "cave bacon".
These are called "soda straws". They are hollow. and drip water constantly.
Early cave explorers found that the best way to get around was on shelves about mid-height in the cave. In the picture below there is a wooden bridge placed by early explorers to cross between rooms. In the late 1940's the cave owner wanted to open the cave to the public for the revenue and decided it was too dangerous to have people climbing ladders and crawling across rickety bridges so he had a crew jackhammer through formations between rooms and pour a concrete walkway.
This is a historic ladder still remaining in the cave.