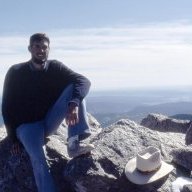 Joined

Feb 1, 2014
Messages

412
I went backpacking to the Missouri Ozarks to hike along the Ozark trail around Goggins Mountain with a with a father and son of the same last name. The fall colors were beautiful but having grown up in the desert I have always found it difficult to get excited about hiking in forests - and we did a lot of that. By the way, we saw no one while we were out and the trail looked barely used. But this isn't why I'm writing.
I wanted post something about a different place in Missouri that impressed me very much. On the way home Bob was looking at the map and saw that we were going to pass near Onondaga Cave State Park. Neither of us had ever heard of it but Bob suggested we give it a try. So we did. We were glad that we did.
I was surprised how beautiful this cave is. Its not massive like Mammoth Caves in Kentucky. But it appears to me to have a greater wealth of formations of stalagmites and stalactites than Mammoth Caves. I think its comparable in beauty to Carlsbad Caverns in New Mexico though also miniature in comparison to that cave system. All of the formations in this cave appear to be active unlike most of the ones in Carlsbad Caverns.
The contentious history of this cave is interesting. en.wikipedia.org/wiki/Onondaga_Cave_State_Park
The cave is a little bit south of I-44 southwest of St. Louis and its a fair distance south of I-70 about midway between Columbia and St. Louis. If you're ever in the area with a few hours to burn I think it'd be worth your while. The fee to go on the tour is $15 per person.
Featured image for home page: