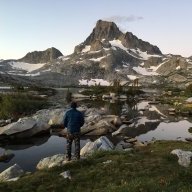 Joined

Feb 9, 2017
Messages

219
Hi,
I go to Bakersfield every year around this time to award a memorial scholarship in my brother's name. We always take a week and try to see what we can since we are out there anyway. It usually involves us putting 1000 miles on a rental car. We've seen Tahoe, Yosemite, and Sequoia this way. This year, we are flying into Vegas and trying to see a little of Utah. Since it seems there is some familiarity with Utah on this board, I thought I would ask. This isn't a backcountry trip, so you can delete it if it isn't appropriate (no hard feelings
).
Get into LV late Saturday night.
Up early, head to Bryce via Valley of Fire SP. Check out the viewpoints and do the Navajo/Queens Garden trail. Stay at Ruby's.
Next day, up early, head to Zion. Canyon Overlook on the way in. We won't make the parking area before 10 AM, so we were going to rent Razors in St George and cruise around the dunes maybe. Staying in an airbnb tiny house on BLM land in Virgin. Up really early the next day to get on one of the first buses in Zion. Riverwalk, emerald pools, maybe watchman trail, whatever else we have time and energy for. Back to the tiny house.
Up early the next day and head to Death Valley. Maybe Furnace Creek, maybe Panamint Springs, hit some DV hotspots (and apparently, they will be very hot).
Next day on to Bakersfield and a lot of drinking with my brother's friends, followed by the scholarship lunch and back to Vegas.
I booked places with easy cancels, I'm bringing my backpacking gear in case we decide to camp at some point. In previous trips, I might have pushed the hiking a bit hard, so I'm trying to see some cool stuff without doing very challenging or long trails. If there's anything on there I should replace or things I shouldn't miss, I would love to hear about it.
Thanks,
Sean