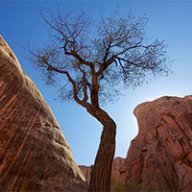 Joined

Aug 9, 2007
Messages

12,940
Boulder Creek has been taunting me. Year after year, every time I would drive over the Hog's Back, it was there, looking slyly up from the east, tempting me. So the first weekend in June rolled around and I finally pulled it off. Hot, dry weather with low runoff - perfect conditions. We packed light - hell, I almost left my sleeping bag behind. And for the first time ever, I packed a fly rod into the desert. Here we go...
As usual, we started the trip off with a night of car camping nearby. Not so usual was the incredible view we found at our spot. I had a tip on a good spot but when we got there it was full! 10 minutes of white knuckle, windy, sandy, crazy-ass dirt road driving to the middle of nowhere later, we found this gem. One of the best car camp spots I've ever experienced.
Can I just retire here? Please?!?!
The sky was mostly clear, but we were still in for a treat beyond the spectacular view.
Yummmmmmmmmm
I shot a couple sets of star trails that night but I find I'm enjoying the plain old single exposure star photos better lately. It was a great night around the fire and we were up much too late.
Friday morning we were up and packing. By mid morning we found ourselves in beautiful Boulder, Utah at the Hills & Hollows meeting up with our good friend @
intuitive cat
who had so graciously offered to help us with a shuttle since he couldn't join us for the hike. Most awesome shuttle car I've ever been in. Thanks, Darren!
I think we were hiking by 10:15 or so and it was HOT! Good thing it was only a half hour or so before we were standing at the dryfall above Boulder Creek and ready to get wet.
Some cool handprints ont he opposite wall from the drop-in point. You can actually see these in the above photo if you look carefully. Thanks for tipping us off to this, Darren.
Once we hit the water, we just stuck to the river bed. Soon enough I found myself calling for a 'depth checka!' . Nate went in first but must have forgotten that he wasn't canyoneering and started going in with his entire backpack and camera on! We had lined out packs with trash bags because of the high likelihood of taking a quick spill in the drink, but they were nowhere near waterproof. I watched Nate go deeper and deeper before saying "dude, your pack is getting wet!". Nate responded, "It's waterproof!". I shouted back, "no, it's NOT!". All of the sudden the reality must have hit him and he quickly backed out. He went half way up his pack and totally submerged his camera hanging from his chest. Talk about mind fart! We took a little break here and checked for damage. Amazingly, the soaked camera still worked like a charm!
On we go. The next several miles were much slower going than we had anticipated. The scenery was nice, but pretty open with occasional epic views here and there. The shore was pretty thick with willows, the river bottom covered in boulders and there were brook trout and water snakes everywhere! I've never seen so many snakes on one hike in my entire life!
Reflected light dancing across an overhang. This was a typical stretch of river. Crystal clear, cool water, fish darting around, calf to thigh deep.
After a while, the canyon started to change character a bit and become more slickrock-y.
I soooooo wanted to pull my Tenkara fly rod out here and catch some fish. Stalking them from the stone river banks would have been great, but I decided to wait til we were at camp to fish. They were plentiful through here and decent sized.
As we got closer to the confluence, we found ourselves in this incredibly scenic area. There were a few deep pools that involved taking packs off and several viable campsites. In retrospect, if we were doing the same route, this would be a great area to stop and camp in rather than going all the way to the confluence. But on the other hand, if I were doing this again, I might just use the other route and go in at the confluence rather than spend the day hopping through this upper section.
It felt like it took forever to finally reach the confluence. We were pretty tired from being up too late and hopping through boulders and knee deep water for 5+ miles so this was a welcome site. Boulder Creek on the left, Deer Creek on the right. Deer Creek was probably 3-5 times more flow than Boulder Creek and much colder at this point. We hiked up it a bit and drank from it.
Below the confluence the water was much stronger and the campsites were few and far between. We ended up settling on a ledge above a nice swimming hole. More for the swimming hole and lack of bushwhacking between us and it than any other reason. It was hot hot hot and we spent the remainder of the day admiring the prickly pears, sipping on cocktails, observing lizard behaviour and soaking in the crisp, cold water of Boulder Creek. Now repeat that about 6 times and that's how it went. It was nice. I didn't take many photos after we settled into that camp.
We had sun until late in the day and were still drying out from the last swim when the beautiful sunset came. I'm not so good at capturing these things when I have a decent foreground, even worse when I'm down in a canyon. It was a spectacular light show that seemed to last for an hour, changing colors constantly.
It did not go unappreciated...
The next morning we were racing the shade to get packed up and back in the water. The skies were promising. Here's a view from our camp ledge down to our swimming hole.
A little tougher to hike in the river below the confluence, but definitely more scenic. Two things I would NEVER do this hike without - trekking poles and really good shoes.
As we approached the narrows, we saw the 4th class exit to bypass and didn't like it. It might have been easy but it sure didn't look all that easy. Definitely a bit exposed. We didn't have much in the way of drybags but we decided we'd much rather try our luck with the direct route. Here's Nate at the first deep pool heading into the narrows.
What better way to check depth than with a boulder over your head?
Anyone have a snorkel???
We quickly figured out that the pools were too deep for Nate at 5'6" but just right for me at 6'4". We dropped packs and went and explored the next several pools to make sure. There was one that was nearly chin deep on me but not too deep to safely shuttle packs. It was an absolute blast working our way throughm the 3 or 4 really deep pools. I had to pack up my camera at this point so no pictures from me from the core of the narrows. Fortunately @
Ndheiner
is a member here on BCP and I'm sure he'll post some of his pics to fill in the gaps.
Here's Nate on the other side of the narrows at one of the last sort of deep pools. Only a bit over waist deep for me.
After the narrows we stopped for a snack and moved on. A bit further down we noticed this cool cave and had to check it out.
This doesn't look natural.
On we go. The swimming holes became larger and larger down here. We would just hike and as we would dry out, we would drop packs and swim for 5 minutes and then keep hiking. It was fantastic.
The last big swimming hole we stopped at in Boulder Creek. So good it called for a mid-day cocktail.
The closer we got to the Escalante, the more Escalante-esque the canyon became. Sadly, one of the bazillion boulders we stepped on down here took Nate down and killed his camera off for the rest of the trip. Be careful with your electronics on this hike! I left about $3k worth of gear on my chest for almost the whole hike and I feel lucky to have made it out the other side with it.
Well, hello Escalante River! That's Boulder Creek on the right, Escalante River on the left. Amazing how clear the Escalante was right now. For the first time I was able to see how many fish are in the Escalante. Not brookies like we saw in most of Boulder Creek, instead they were big, slow suckers of some sort. Would have been easy to spear fish those guys.
It was now pretty late in the day so we decided to just hike up the Escalante a bit and find a campsite. If the water hadn't been so clear, we probably would have just camped near the confluence with Boulder Creek.
The unusually crystal clear waters of the Escalante River.
After a mile or so, we took a reading and realized we were probably only 5 miles or so from the truck. Sure, we had already done a pretty good 7 miles for the day and it was pushing 5pm, but then we remembered there were cold drinks in that truck. It was hot... cold drinks. Hot. Cold drinks. Hmmm...
We decided to just keep hiking. If we found a fantastic spot, we would stop and camp. If not, we would book it back to the truck, drink cold drinks and go camp at our new bestest car camp spot ever.
With 3+ miles to go, we stopped and took a dip in the Escalante and had a snack and knew we were going for it. The trail totally sucked and we found ourselves wading and bushwhacking at times, but the allure of a cold drink was too much. The deer flies came out for a bit and made life hell. And then there was the last 2 miles through private property which seems to add a good mile onto route. Pretty houses but damn... they sure push that trail into some pretty inconvenient corners.
Finally, around 7:30pm, we were at the Highway and ice cold goodness was upon us. I was exhausted. If you've been listening to one word I've said this year, it's that my knee is a pain in my ass. In restrospect, we should have just camped, because once again, I kinda over did it slamming out 12-13 miles of boulders and bushwhacking that last day. But it was okay... didn't take me out quite as long as the last trip and I was actually back out the following weekend. 2 steps forward, 1 step back..
So we loaded up and headed back up to Boudler to resupply - got there just in time to see Darren and load up before he closed up shop for the night. Then back out to the edge of the earth for another beautiful night under the stars. What a great trip.
Here's a map of our route:
View larger map.
Featured image for home page: