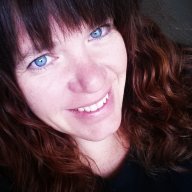 Joined

Jan 17, 2012
Messages

1,109
Easy to find, easy to hike...except it took us 3 hours to travel a whopping 3/4 of a mile down this canyon and about 15 min to walk back to the car using the dirt road. So many formations to explore, Spencer and I had a grand time crawling all over the place. I think we had been in the canyon for an hour when we crawled up and out to see that we had traveled about 300 feet. So I walked back to the car to return my jacket and tripod. Spent a few minutes photographing the dam and headed down the canyon some more. After exploring we found a hot springs on our way back to Idaho Falls and soaked.
Spencer to give you some perspective.
Rocks in a carved out bowl. It was in an awkward place. Spencer had to be my support while I tried to get this photo. So he is 6'4" and I was using his shoulders to balance while clinging to the rock. The formations and how the water and little rocks swirl around when the water is flowing fast and carve these little bowls fascinate me.
Spencer
Me
So we haven't made it very far. This hike took way longer than I thought it would. We were going to go explore one of the caves near by but did not have enough time. Neither of us minded this spot was all we needed to entertain us for the day.
Hot Springs Soak