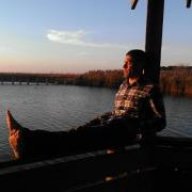 Joined

Feb 19, 2013
Messages

147
I am planning to do a trip this summer and think it time for a new sleeping system. I do a lot of camping in the desert on the weekend with my Jeep and usually use a hammock.
I love my hammock and take it everywhere with me! But I am looking for something a little more robust and simple for when I go on week long backpacking trips. I had a decent North Face 2 man tent that I took on a week long hike through the Grand Canyon:
Its worked great for me, but the rain fly has started to chip and I want something lighter more like a 1 man.
I have been really looking at and reading every review of the Advanced Bivy by OR. I really really like what I see and what I have read. But part of me is leaning toward a 1 man tent because I want something I can use in warmer climates too. Basically I want something I can use pretty much anywhere...