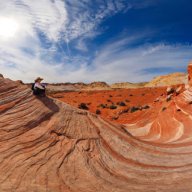 Joined

Aug 18, 2018
Messages

1,550
After 27 on and off nights in the tent, the evenings & nights started to get a bit long end of November! As a Colorado campground neighbor said: "Im reading for hours it seems, check the clock and it's only 6:50 pm…, it's just a long night!". So armed with the keys to our friend's place we went south for a week of comfort, exceptional amenities and some fresh food. That was Thanksgiving week and the town was incredible busy. On Thanksgiving day and Rick' birthday we elected to hike a nice loop with great views instead of cooking a Turkey!
Most mornings started with the view of the balloons. But Thanksgiving morning it was super windy, so the photo is from one of the other days.
Its most quiet on those double black diamond trails… so that's what we did. Notice the tire marks headed straight for the prickly pear.
Rick loved these birthday views
We have taken this photo any times, lovely views
Tiny green ferns and agave together, precious spot!
And then this,
@scatman
's dream sign, no e-bikes.
stepping aside for a biker on the easiest piece of trail
agave and prickly pear
backlit Ocotillo
That is likely suppose to be a warning, sign says nothing, but it's the start of the double black
Not particular steep but every square inch of slick rock is covered in sand, so for hikers there is zero traction
There's much more of the double black trail stuff, we forgot how long that section was. Much further down it got very (!) busy, families out hiking before eating Turkey. Everyone was happy and in a good mood, very noticeable that day. And how could you be grumpy on a nice day like that!
This is usually a scene with stellar reflections, but not that day. Still we saw some left over fall color along the creek. And I almost forgot, Rick got a dollar from a guy on his birthday and was told to pass it on! Old tradition of this guy's grandma, she gave strangers a dollar on their birthday.
Rick taking photo of the remaining fall color.
Nice creek and it was breezy again
Usually stellar reflections here, but just a little that day
Birthday boy on trail
And then it got nuts. Hundreds of trails all over town and everyone is up there…. ?
We bypassed this quickly and continued on.
When we returned the TH was so crowded…. Quite the difference as compared to returning from our desert wanderings in southern Utah! We drove back and inspired by
@Jackson
we cooked some salmon for Thanksgiving dinner. And a fancy whole grain mix with some birthday Prosecco, it was all very tasty after so much dry food!
We really missed being with our Denver friends as usual for Thanksgiving, but we had a nice day and Rick enjoyed his birthday!