Joined

May 22, 2015
Messages

1,011
Trip Report with more chronological pics here:
http://www.nwhikers.net/forums/viewtopic.php?t=8016013
It doesn't get better in the desert......
Glen Canyon National Recreation Area:
Crack in the Wall Route to Coyote Gulch/Escalante River.
Up Stevens Canyon complete ascent to Fold Pass.
Down Fold Canyon complete descent from Fold Pass.
Down Escalante River 7 mile wade and thrash.
Up Bobway Canyon to mesa.
Kings Mesa crossing.
Down Long Branch Sleepy Hollow Rim to Sleepy Hollow.
Down Coyote Gulch.
Crack in the Wall ascent to Trailhead.
53 mile loop.
Pictures of an amazing 6 Day Backpack Loop through trailless canyons rising East and West off the Escalante River in Glen Canyon National Recreation Area.
I joined Kimberly S. (Rainie Too), Lori G., and Jerry S. for this spectacular adventure.
I can not come up with the words so here is the picture report. Could not have gone better and I can not thank my partners enough.....
Day 1: Crack in the wall to Escalante River to Stevens Canyon 5 miles.
Day 2: Up Stevens Canyon 9.5 miles.
Day 3: Finish Stevens Canyon, climb to Fold pass, begin descent of Fold Canyon. 8 miles.
Day 4: Descend Fold Canyon, cross into spur canyon, downclimb to Escalante River, wade Escalante River downstream to Fools Canyon mouth. 9 miles.
Day 5: Continue down Escalante River Canyon. Climb out the Bobway to King Mesa. Cross mesa. Descend south rim of Long Branch of Sleepy Hollow into Sleepy hollow. Camp at mouth on Coyote Gulch. 10 miles.
Day 6: descend Coyote Gulch to Crack in the Wall route back to Trailhead. 12 miles.
Featured image for home page: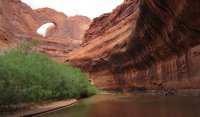 Last edited: