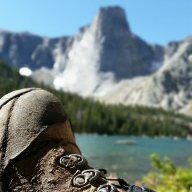 Joined

Jul 6, 2012
Messages

858
I wasn't sure what to call this thread.
I'm toying with the idea of getting a ultralight 2-3 person tent...possibly very soon. I could use any input anyone has.
I've been eyeing the Copper Spur UL2. I have a Fly Creek UL1 and enjoy it but I "need" an ultralight for 2. The Copper looks solid...a little pricey...and maybe a little tight, but would get the job done I think. 20 % REI discount would help. A little.
Then I came across a Tarptent that looks cool, the Rainshadow 2. The roominess appeals to me. I'm generally not a fan of non-freestanding (sucks relying on good ground to stake into) or single-wall (condensation)...but this tent is tempting me! The one door doesn't bother me. I like bug-proof, too. The best review I read was
here
.
Does anyone have any experience with Tarptents? Seems like I read in another thread that @
sixstringsteve
bought a Tarptent (Stratospire2?). @
uintafly
, did you ever get that Notch Tarptent?
Edit:
this thread
has helped a bit. Sorry to be a little redundant.
Or...anyone have an alternative tent in the category that they LOVE?