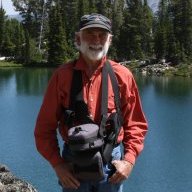 Joined

Sep 30, 2014
Messages

430
This was a late July 2012 trip consisting of my wife, I, and a couple of friends we have been backpacking/Jeeping with for 4 decades.
As far as Beartooth trips go, we wimped out on this one. Like more than a few of our adventures, this one combined off-roading with a lot of hiking. In this case we parked the Jeeps at Star Lake off Forest Service Road 3230 and made camp a few hundred yards from both the trail and lake. The first day was pretty much consumed by travel-slow going through Yellowstone and 5 to 6 miles of real Jeep trail. By the time we had the tent up and dinner, there was only time for a short hike to the southwest to a point we were overlooking Huckleberry Lake.
The second day, we loaded the Jeeps and drove the rest of the trail to the Goose Lake trail head (only about a mile) and then hiked past Goose and Little Goose lakes to the top of Grasshopper Glacier between Sawtooth Mountain and Iceberg Peak-about 3 miles one way. Unfortunately we arrived at the glacier at the same time as a rather intense lighting storm and after hiding behind the rocks for about an hour in high wind and hail, we bailed without getting to do much wandering on the ice.
The third day we hiked from camp, up the Jeep trail a bit short of the Goose Lake trail head and cut off-trail to the northeast past Snow, Green and Little Green Lakes and then back to Star Lake. We arrived at Star at the same time a chopper was planting fish there.
For day four, we drove the Jeeps a mile or so back down the Jeep trail past Long Lake (not the same as Long Lake off US 212) to the trail head for FS 573 and headed up Zimmer Creek. The goal was Zimmer Lake but the headwall below the lake was too intimidating for a couple of us.
Day five was just breaking camp and heading home.
Round Lake off Jeep trail
Round Lake with Mount Zimmer in background
Star Lake. Jeep trail is visible and the far side of the lake heading up to the saddle.
Huckleberry Lake
Republic Peak
Start on day 2 at Star Lake-sorry about the hat-didn't quite get that out of the frame
Morning at Star
There was one reasonably challenging streatch in the trail
End of Jeep trail below Goose Lake
Cascades below Goose Lake with Sawtooth Mountain for a backdrop. The trail is visible at the left but a little scrambling here through the rocks at the right avoids crossing Goose Creek twice.
A puddle below Goose Lake with a little of Goose Lake behind. Wolf Mountain left and Sawtooth Mountain again
Ancient mining debris at the upper end of Little Goose Lake
Little Goose Lake on our way to the glacier-and the gathering storm
Looking into upper West Rosebud Creek above Grasshopper Glacier
Back at the trail head, weather decent again---
And a few small file jpgs our friends took getting back to camp
And one of the rare occasions we actually use the camp chairs
Day three
Snow Lake
Green and Little Green Lakes
Between the Greens
Astral Lake (below Little Green on Star Creek)
And our unusual greeting back at Star Lake
Day four
Companion Lake on our way to Zimmer Creek
Mount Zimmer as we drop into Zimmer Creek
Falls/cascades below Zimmer Lake
Mount Zimmer
Heading home on day 5-at Long Lake
Parting shot from FS 3230. Peaks are, left to right, Mount Wilse, Glacier Peak (just left of fir). Mount Villard, Granite Peak, The Spires, and a little of Cairn Mountain at far right.
Featured image for home page: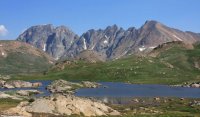 Last edited: