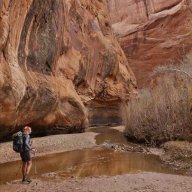 Joined

Jan 4, 2015
Messages

2,745
It's that time of year again - time to start planning out vacation! I'm planning a week-long trip to the Beartooths/Absarokas, probably in late August. Here's what I'm looking for:
Week-long trip (I'm not a fast hiker but I do hike long days)
Mostly off-trail travel
Traverse the "high points" (literal and metaphorical) of the range
No compromises in terms of scenery- jaw-dropping beauty from end to end

No technical terrain. 1 or 2 spots of low-end Class IV is OK. Class II or low end III will be fairly commonplace
For comparison's sake, last year I did a high-route style trip through the Winds - if you look up the Winds routes by Skurka/Burrell or Wilson/Dixon, you'll get a rough idea of what I'm hoping to do in the Beartooths. Maybe slightly tamer, as I'll be solo on this trip.
Here's a few questions to get the discussion started:
What trailheads would you recommend? I'm going to have to hitch most likely. Beartooth Pass seems like a likely candidate - would I be best off hiking all the way to Highway 89 to make the hitch easier?
What are the can't-miss spots? My route will take me right underneath Granite Peak (the summit itself is too technical to be a part of the route). I'm looking forward to spending plenty of time on high ridges and plateaus, well above treeline. Any specific places to pass through?
Water crossings - anything problematic? Will the Stillwater River be fordable? Anything else to watch out for?
I've been playing around with a map for a while, putting pushpins in it as it gradually starts to take shape in my head. At this point, nothing is nailed down. Any and all advice is welcome!
Click here to view on CalTopo