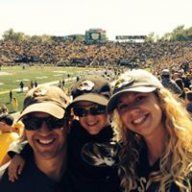 Joined

Oct 7, 2014
Messages

98
In late August, my wife and I headed to the Banff region for 8 days to hike and backpack through the region's ample parks. This included a couple days exploring Glacier National Park of Canada, a 4-day trek in the Pipestone Highline region, and a couple days being tourists. I'll leave out most of the touristy stuff and can't stress enough to avoid staying in Banff or Lake Louise, which while beautiful towns, are overrun tourist traps. That said, with very little effort, one can escape the crowds and find relative solace in the gorgeous Canadian Rockies.
Days 1 - 2: Golden / Glacier National Park of Canada
We arrived in Calgary and drove through Banff and Yoho to Golden, a small, somewhat industrial town that sits in a beautiful valley. Unfortunately, a very active fire season meant many closures and limited views during some parts of the day. We rented a small cabin just outside of town for a couple of nights and definitely recommend getting out of the town itself. On day 2, we hiked in Glacier National Park of Canada, one of the "smaller" but nonetheless stunning parks. The main hike was a 4-mile scramble to a gorgeous boulder field / stream overlooking the park. There were 3-4 other couples, but it wasn't too crowded.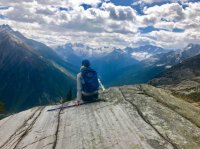 Obligatory "edge of the world" shot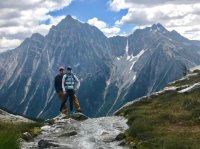 Forest fires near the entrance of the park: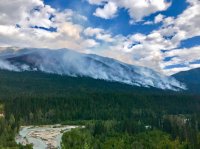 Day 3 - 6: Fish Lakes / Pipestone Highline / Devon Lakes Out and Back
My original itinerary was a "loop" hike starting at the Mosquito Creek TH toward Fish Lakes over the Pipestone Pass to Devon Lakes, then through the Siffleur river valley to the Dolomite Pass trail. However, heavy rains had caused a large stretch of the Siffleur valley to become a swamp, and we were warned of a 10+ mile section of post-holing/bush wacking through muck. My wife enjoys backpacking with me, but not through those types of extremes. Therefore, we decided upon an out-and-back with sufficient time to explore.
The first day of the trek took us six miles through a sub-alpine rain forest, up over North Molar pass, dropping down to Fish Lakes. Up to the unnamed lakes near the pass, there were a few groups of day hikers, but it cleared out after that. We would see three people the rest of the trip until we got back over the pass. The weather was cold and overcast, with some intermittent rain, but nothing too sketchy.
Forest starting to thin out.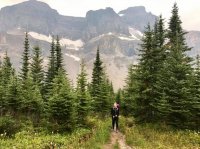 About 8 miles in, reaching tree level.

Climbing up North Molar Pass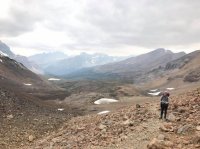 That night, we camped at Fish Lakes. It was f'n cold and windy, so we crashed early and didn't get too many photos. The campsites were fine, but buried in the trees to protect from the elements.
However, the next morning, we awoke to brilliant sunshine. The eclipse was happening this day, and we'd have 90% totality here.
Morning coffee at Upper Fish Lake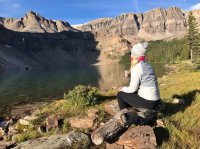 Unfortunately, the weather started changing as soon as we hit the trail, and we had another rainy, cold day. Finding the Pipestone Highline Trail was supposedly challenging, and we were told about a bushwack shortcut. Unfortunately, I missed my bearings a bit, so we wasted about 45 minutes grinding through thick scrub, but eventually picked up the trail and headed toward Moose Lake, where we stopped for the eclipse.
There's an eclipse up there somewhere behind the clouds: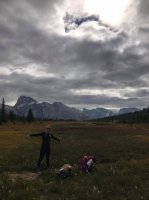 While the eclipse was a dud due to cloud cover, the Pipestone Highline trail was incredible. It's 12 miles of alpine meadow in a gorgeous valley. And when you cross Pipestone Pass, you're rewarded by an equally gorgeous Siffleur River valley.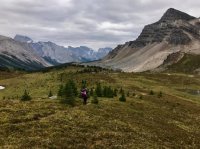 We missed peak wildflower season by a week, but these beauties were still everywhere.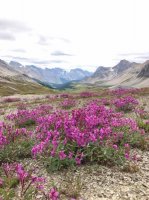 Nearing Pipestone Pass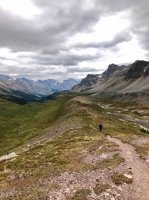 Just over Pipestone Pass, looking into the Siffleur River valley.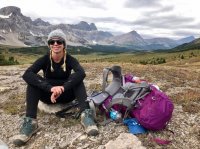 Devon Lakes campsite for night 2. We were thankful for the rock wind barriers, as it gusting hard all night. We did have to share the campsite with this lovely lady, who was extremely curious.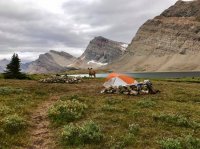 Another view of camp: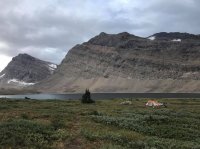 Again, due to the cold and wind, we settled in early, having sufficiently drank away our bourbon rations. The next day we would back track slowly to Fish Lakes for our third night. We awoke to brilliant sunshine and only a few stray clouds. It would remain gorgeous the entire day, which really lifted our spirits. The views in Siffleur Valley and the Pipestone were magnificent in the sun.
Siffleur River valley under blue skies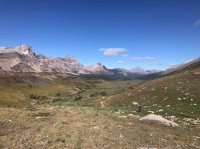 Even the flowers looked better!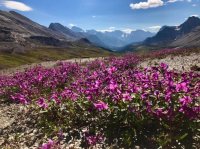 The Pipestone Highline in sunny glory. It's about 10 miles from this spot to around the bend of the mountain on the far right, which takes you back to Fish Lakes. The valley feels immense.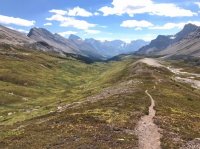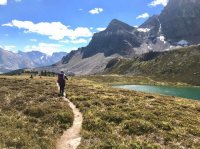 That night was much warmer, and we were really energized by the day spent exploring, scrambling and basking in the sun. Had an incredible dinner and made sure we returned with no rations of bourbon. The trek out was also gorgeous.
Above Fish Lakes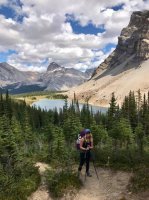 Somewhere near North Molar Pass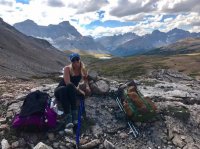 Over North Molar pass and headed back down the to Mosquito Creek Valley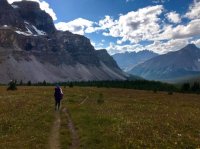 Despite the weather on the first two days, this was a very rewarding trek for a couple of flatlanders from St. Louis. If I had to do it again, I may have added a day or two and added a loop to include Molar Pass and the surrounding areas. We could have probably attempted the Siffleur valley / Dolomite loop, but have no regrets. We finished our trip by staying in very quaint (and not over-touristed) Canmore, doing some day hikes in Jasper and Banff. Our next trip to the area will probably include a trek in northern Jasper NP, where apparently, the crowds really thin out.