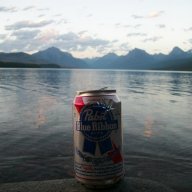 Joined

Apr 1, 2014
Messages

878
Back in 2008, I was sitting at the bar at Flagg Ranch, just outside the south entrance to Yellowstone National Park, with my buddy John Nause. We had recently quit our jobs down at Signal Mountain Lodge, and were spending the summer exploring the Yellowstone backcountry. All though I had been visiting the park for a few years prior, this was my first major exploration of the park's backcountry. While conversing with the bartender, he asked us if we knew of a place called Fairyland Basin. "I've heard it's the most amazing place in Yellowstone", he said. "There are no trails to it, and it's very hard to reach. Very few people make it out there." We had never even heard of it. The bartender would not stop talking about how incredible this place was. "It's enchanting."
Naturally, I was intrigued. Later that year, with the help of the internet, I figured out where this Fairyland Basin was. I quickly noticed that the pictures didn't quite match the description. It really didn't look all that enchanting or amazing. Still, I wanted to go see it for myself. After all, this was the "badge of achievement" every Yellowstone hiker seemed to want. Over the next couple of years, I made several attempts to go out there, only to have the backcountry office persuade me otherwise. Finally in 2012, on one of those legendary
@scatman
trips, I made it to Fairylands. It was both exhausting and demanding. Out of a group of 8, only 4 of us made it down to the basin.
That was the first time I met
@Keith
(Keith Mange). He made it down to Fairylands with me. While down there, I distinctly remember Keith looking at me and saying "I'll never do that again. Once is enough." He would puke a few hours later from dehydration on our long walk out.
Now fast forward to 2016. Keith has not only become a good friend, but also a very trusted hiking companion. His passion and excitement for the Yellowstone backcountry is on par with mine. Last year, we planned on going back to Fairylands, but ended up having to skip it due to bad weather. (You can read a trip report for that trip here:
http://backcountrypost.com/threads/...rainbow-springs-and-joseph-coat-springs.5210/
) After doing 2 backpacking trips together earlier this summer, Keith invited me to come along on a trip with his family. He wanted to go back out to Josephs Coat and Broad Creek, and maybe Fairyland Basin again. I was all for it. His brother Rick, son Jamey, and family friend Colin were coming along. Jamey had made it down to Fairylands with us back in 2012. Also joining us was my friend
@Keith R.
(Keith Rebec), who spent a good portion of this summer backpacking with me. The two of us had just hiked out from a Thorofare trip the day before, and were a little exhausted from the sloppy, wet weather drenching Wyoming the previous few weeks. Our forecast for this trip wasn't very stable either.
Since there are 2 people named Keith in this report, I'm going to refer to Keith Mange as Keith, and Keith Rebec as Mr. Rebec.
Day 1: Before we got started, Keith dropped off a vehicle at the Pelican Valley Trailhead. This was our ending destination. Then we all met up at the Wapiti Lake Trailhead, just south of Canyon Village. At the trailhead, Keith pulled out a present that his wife Kristin had gotten for me as a birthday gift. Keith was eager for me to open it, telling me it was important. It was a huge case of Reese's Peanut Butter Cups.
Thanks Kristin Mange!
Keith ripped open the box before I could even say "Yes you can have some.", and stuffed a bunch into his camera case. He would forget about them for the next few days, sleeping with his camera case next to his head in the tent.
We started off by crossing the open meadows at the north end of Hayden Valley, where we had great views to the south and east. After the first mile, that all came to an end, and we entered the deep, dark woods that cover the plateaus north of Sour Creek. We passed a few hikers in the first hour, and then wouldn't see another person for the rest of our trip. Our first night's destination was backcountry campsite 4M2, which is a wooded site near Moss Creek. It's roughly 8 miles in from the trailhead, with a slight, gradual climb in elevation. We took our time, dodging several brief rain storms, and made it to camp with enough time to enjoy the evening. A huge lightning storm came over us after dark, dumping a lot of rain. I think it rained on us every single night of this trip.
The crew. Jamey, Mr. Rebec, Colin, Keith, Rick, and myself. And of course, the box of Reese's Peanut Butter Cups.
The first mile of the Wapiti Lake trail, crossing the north east end of Hayden Valley.
After the first mile, the trail is heavily wooded with lodge pole pine all the way to Broad Creek.
Mr. Rebec, along with our tents, at the Moss Creek backcountry campsite, 4M2.
The guys sitting around the fire at camp, in our food prep area.
My food for the trip.
Day 2: Our second day was relatively short and easy, although it was almost entirely off trail. We had roughly 2 miles to reach our camping destination at backcountry campsite 4B1, which sits along a tailless section of Broad Creek. As we headed out in the morning, we found fresh grizzly tracks on the trail right in front of our camp, meaning a bear had walked past our tents sometime during the morning after the rains stopped.
We followed the Wapiti Lake trail a short distance east, before heading off trail into the woods. From there we simply followed Keith and his GPS. It isn't very difficult to hike this section if you know where to go. There isn't much downfall (dead trees that have fallen to the ground) to navigate around, and none of this section is through fire burn. It's kind of a grassy forest. There are several ravines to navigate, and a couple meadows that are pleasant to walk through. Although I don't intend for this report to be used as a guide, I would like to stress that I do think it's a good idea to carry either a GPS, or map and compass for this section. Due to the route being un-marked, heavily wooded, and lacking any views or landmarks, it can be difficult to figure out. As we neared camp we reached a loud steam vent. Last year, Keith made me walk right next to it with him, telling me it was the only way. This year though, with his family in tow, he was much more concerned with safety, and found another way around it.
Right after that, we reached our camp.
Grizzly bear tracks on the trail right near our camp in the morning.
One of the pretty meadows along our route.
Pretty much what the majority of our off trail route over to Broad Creek looked like.
One of the thermal lakes we walked past just before we reached our campsite.
The steam vent near camp. This is one of my favorite features in the area. It sits up high on a ridge, and can be seen from down in Josephs Coat.
Backcountry campsite 4B1 is an off trail campsite that sits along Broad Creek. Josephs Coat Springs and its thermal basin is just to the north. It can be difficult to locate, and is not at the GPS coordinates that the backcountry office gives for it (upon asking). The campsite itself is probably one of the least attractive backcountry campsites in the park. Actually, I'm going to go ahead and call it the worst. There is very little flat ground for tents, very few places away from the food pole and cooking area, and not much to look at in the campsite itself. There is an amazing amount of bison scat in the campground, even though I've never seen bison down there or anywhere else in the area. Some parts of the campsite are on thermal crust. There aren't even any game trails in the area. As Mr. Rebec said on our first night there, "I don't get the feeling anything is going to pull me out of the tent in the middle of the night here."
The only real good thing about this spot is it's proximity to Josephs Coat, and Fairyland Basin.
The sign marking backcountry campsite 4B1, which is basically not visible from any of the approaching ways to get there.
Getting our tents set up.
A farther back look at our scenic camp. Broad Creek is not visible, but running at the base of the woods behind our camp. You can see Keith over in our food prep area.
Broad Creek, near our camp.
LOL, insert your own captions here. This picture pretty much sums up what everyone thought about our campsite. Notice how everyone is smiling. Just look at those faces. This is hilarious.
For all the campsite bashing I'm doing, there is a good reason to come out here. Directly behind the campsite is Joseph Coat Springs and thermal basin, with Broad Creek running right through it. And the basin is pretty freaking cool. I find it to be one of nicer backcountry thermal areas in the park. It's a worthy destination by itself, and some may find it more exciting than Fairylands. Several waterfalls, steam vents, geysers, and thermal pools surround the area. The colors really stand out, especially with clear blue skies. The rising steam from all the vents add to the charm.
We got our camp set up, and then spent the afternoon exploring the area. Rain clouds came and went, storming on us a few times. But it cleared up in the evening, and we had a beautiful night around the campfire.
This is the view behind our camp, overlooking Broad Creek as it makes its way into Josephs Coat.
Broad Creek making a big bend through the area.
Looking up Broad Creek. You can see the steam vents above to the right. Our camp is out of sight, behind those trees to the middle left.
A few shots from around the thermal basin.
One of the small waterfalls along Broad Creek near camp.
Day 3: We were camping at 4B1 for two nights. So our plan for this day was to leave camp set up, and explore some of the areas farther down the Broad Creek drainage. Although Fairyland Basin was our overall destination, part of the group was already making different plans. Jamey had already been there before, and didn't really seem enthused to go see it again. Rick was still adjusting to the altitude difference between Yellowstone and Texas. He was also, as he put it, "Still trying to figure out why we walked all this way just to see smoke coming out of a f@#%ing hole in the ground." I understood his point, actually. So those two were going to stop at Coffee Pot Hot Springs, and spend the day relaxing until the rest of us got back from Fairylands.
We started off by following Broad Creek downstream, passing through Josephs Coat. There are no trails in the area, but there are some use trails the first mile or so walking down from camp. Soon we had to cross Broad Creek a few times. Eventually the creek banks got too steep, and we headed up into the forest above the east side. We filled up water bottles first, since there is no reliable water until Fairylands, unless you want to drink thermal water. Keith had GPS points from our trip back in 2012, when we followed game trails through this stretch. After a little work, we picked up the game trails, and followed them towards Coffee Pot. It wasn't easy. Although this section of forest is un-burned, there is still quite a bit of downfall here, and the walking is much more difficult than what we had hiked through the day before. Often times we would loose the game trail, and pick it up a few minutes later, thanks to following GPS points. We crossed what Keith has unofficially named "Puke Creek", and soon walked into the open thermal drainage of Coffee Pot Hot Springs. None of us could figure out why exactly it's called that, but it is a neat set of hot springs.
A look at Broad Creek as we set off towards Fairylands.
Walking along Broad Creek downstream from Josephs Coat.
Another view of Broad Creek, where we began having to cross it.
Jamey successfully rock hopping across.
Keith found a different set of rocks to cross Broad Creek on.
A thermal feature along Broad Creek.
Following game trails on the way to Coffee Pot Hot Springs.
The game trails weren't always there.
As we neared Coffee Pot Hot Springs, the terrain opened up.
A few shots of Coffee Pot Hot Springs.
Taking a lunch break near the hot springs.
We took a lunch break at the springs, and then said goodbye to Rick and Jamey. Keith almost decided to stay with them, but fell to our peer pressure. I could tell he was stressed about leaving his family behind. We left a map and GPS with those guys, just in case anything happened to us, and then Keith, Colin, Mr. Rebec, and myself set off for Fairylands. We started by hiking up the Coffee Pot drainage, which has open meadows for a half mile. Then it was back into the forest, this time without any game trails. This area was thick with downfall, and some sections were difficult to navigate. Huge trees were piled on top of each other, and it wasn't always easy to figure out the best way through. Eventually we made our way out to the heavily burned ridges that make up the approach to the overlook above Fairyland Basin. There is an incredible amount of down trees here, and it looks as if someone scattered jumbo sized matchsticks everywhere. Often times, walking on a down tree was the easiest method of travel. This can be very dangerous, especially when walking on one that is still suspended in the air. All of the tree's have broken limbs, and it would be very easy to impale yourself if you fell. It was a very time consuming process, and not very scenic or exciting. After a while, I began to think we were heading the wrong way. We finally reached a spot overlooking the canyon surrounding Shallow Creek, which is not where we wanted to be. Somehow Keith's GPS had taken us off track, and so we spent another 30 minutes working our way west.
When we finally reached the overlook, Keith decided to turn around. We had wasted a bunch of time getting here, and he didn't want to get back to his family in the dark. (The sun sets early here in September.) I, however, was determined to continue on down to Fairylands. The most difficult part of the route was over with, and I didn't come all this way not to go down. To my surprise, both Colin and Mr. Rebec wanted to continue as well. Since Keith would be hiking back alone, he kept the GPS and map. We said goodbye, and continued on. There was still work to do. We were standing along the cliffs high above Broad Creek, and needed to figure out the correct way down. At least 500 feet down, the decent route is very steep, and on loose dirt that makes it easy to slide on. The correct decent can be hard to locate. (On my first trip down there back in 2012, 4 of us somehow found the correct way down on our first try. The rest of our group had gotten separated from us, and were never able to find the correct way down.) I settled on what I thought was the right spot, and we carefully descended down. As we neared the bottom, I began to realize we were farther upstream than where we should be. I wasn't sure what we should do, and didn't really want to climb back up 500 feet if we didn't have to. So we tried to head downstream. At first it wasn't difficult, and we were able to walk the shoreline. Soon though the canyon narrowed, and we ran into several waterfalls. We spent a good hour carefully navigating along sketchy game trails covered with thorny brush to by pass all the waterfalls. At times we had to jump from rock to rock along the creek's edge. Even though we weren't making fast time, all 3 of us seemed to enjoy the beauty of the canyon. High narrow walls, endless waterfalls, thermal pools, green algae, and the roar of the creek crashing downstream. The colors were enchanting. It looked like the kind of place you would see fairies. Maybe they should call this Fairylands.
Soon we found ourselves standing above a huge pour-off slash waterfall, with no way down or around. Only a few hundred yards from Fairyland Basin, we had no choice but to climb back up the canyon wall. We luckily were able to scale the cliffs, at one point using downed trees to pull ourselves up. There was some good exposure here, and if anyone fell it would be bad news. But we made it back to the top. We walked maybe 100 yards further south, and found the correct spot to climb down. As we climbed down, Fairyland Basin came into view. Soon we were there.
Navigating downfall on our way towards Fairylands.
One of the few easy spots to walk through. An open meadow, with Mount Washburn in the background.
Lots and lots of this kind of stuff to deal with.
Mr. Rebec beginning our wrong decent down into Broad Creek.
Colin working his way down. The correct way down (which we would do later) looks very similar, and just as steep.
The downfall never gave us a break.
A few shots of the waterfalls and steep canyon walls of Broad Creek.
Me at Fairyland Basin.
Fairyland Basin is a small, somewhat inactive thermal area. There are a few dozen white hoodoos right where Shallow Creek joins Broad Creek In addition to the hoodoos, there are a few thermal pools. A nice set of waterfalls sit in between log jams along Shallow Creek. High canyon walls surround the basin. The remoteness and difficulty of getting here certainly make this place more attractive than it actually is. We spent about 45 minutes hanging out. I did enjoy being there more this time than my previous time down. I appreciated the features more. The cooler fall temperatures probably helped. Last time it had been so hot.
Below is a bunch of pictures from the basin. I'm not going to describe them all:
This is looking back up Broad Creek.
The worst thing about going out to Fairylands, is that you then have to go back.
We started climbing out of the basin around 4:45 pm, and it was after 5 by the time we got to the top. All 3 of us had headlamps, and knew there was no way we were getting back before dark. I surveyed the landscape. Although the fire burned areas weren't easy to navigate, they also didn't appear terribly difficult. It looked almost possible to follow the ridges above the east side of Broad Creek back to our camp. This would be a more direct route, and could save time. I discussed it with the guys, and they seemed okay with it. I would find out later that neither Colin or Mr. Rebec brought any food with them for the day. I'm not sure how coherent they really were.
At first the new plan seemed to work. Almost too good. We had our troubles dealing with the fire burn and downfall (about an hour of it), but seemed to be making decent time. Soon we reached forest, found a fantastic game trail, and quickly made our way to the mouth of the Coffee Pot drainage. We took a break, and I began to think we might actually make it back before dark. Moral kind of took a boost. But that quickly changed. To start with, our game trail was high above Broad Creek, and the steep walls below us were choked with downfall. And the mouth of this side drainage was huge. We couldn't just drop down and then go back up; we had to skirt around it. This was very time consuming. By the time we made it to the other side of the drainage, the sun had set, and it was getting dark. To make matters worse, we were back in fire burn, with a new type of downfall. Unlike the other sections of burn, this spot had regrowth. Regrowth is all the new lodge pole trees growing back from previous fires. Anywhere from 2 to 6 feet tall, they where thick and brushy. This combined with the down trees made navigation incredibly tedious and difficult. We slowly worked our way south. Not much talking was going on. I was afraid to look back at the guys, because I knew it was difficult, and that they were low on energy. Despair seemed to be setting in. I kept looking for another option, but just didn't seem to have one. As we started getting closer to the creek, I began to see that as a road out. Broad creek isn't very deep, and is wide enough that it's not clogged with dead trees. We decided to drop down to it. Downfall littered the steep banks. It was a no-brainer. Actually, the biggest stress for me at this point was Mr. Rebec. Over time he has developed an absolute hatred towards getting his boots wet. So much so, that I didn't want to say anything to him. But I had to. It was already dark, and there was no other way to do it. "You can dry your boots out tonight at the fire. The other guys will have one waiting for us." I said. Mr. Rebec looked around for a bit, then looked at the creek. "So you want to walk the river back?" he said. "Yep," I said, "It's the only way." Mr. Rebec hesitated, then stormed off into the water. He went in deeper than he expected. Words were shouted, as exhaustion had taken it's toll on us. Colin showed up, confused, and thinking someone had been attacked by a bear. "Where's the bear?" he shouted. "Just put your headlamp on and start walking up the river, in the water." I said. "And pay attention."
And so up the creek we went. Quite easily, actually. In most places the creek was only a few inches deep, although there were numerous deep holes. Even in the dark, I could enjoy the beauty of it. The slickrock bottom was very colorful, and reminded me of Death Hollow down in the Escalante. There were several cascades and small waterfalls. As we made our way up, we started running into thermal pools and vents along the shoreline. Steam rose in the dark. "Holy shit, that was hot!" Colin yelled at one point from the rear. He had stepped in boiling water.
My headlamp wasn't doing much for me, since the batteries were all but dead. The light just faded away into the darkness a few feet in front of me. The sound of the creek rushing downstream drowned out my attempts to make noise. I really wasn't expecting to run into bears here, but it was certainly possible, especially in the dark. And they wouldn't hear us coming. So I walked with my can of bear spray in hand, with the safety off, replaced by my thumb. I kept thinking about something Mr. Rebec had shouted earlier. "This isn't very fun." he had said. I probably wouldn't think to call it fun, but I absolutely found it exciting. And exciting is fun. So, yeah I did find this fun. At that moment I was aware. And the more aware I am, the more I notice. The more I see. The more I feel. For me, it's the feeling of being alive. And so I kept walking up that creek, boots waterlogged and all, with a giant smile on my face. This was what I love about being out here. Not achievement. Not accomplishment. But rather the experience.
Soon the hill sides started to level out. We were able to walk stretches of the creek banks. Eventually we were back to the use trails that we had hiked in on. Josephs Coat, and our campsite, were a few hundred yards around the corner. We stopped to drink water and take a break. Moods had changed. Both of the guys had smiles on their faces. Even the tone of their voices had lifted. "We're going to remember this one for a long time." Mr. Rebec said. Colin was busy trying to scheme up a scenario where we carried him into camp and pretended that he was injured. "No, we're not doing that. Keith will hit his Spot button before we can stop him, if he hasn't already." I said. I couldn't help but chuckle inside, and I felt relieved knowing these guys were back to being themselves.
We carefully walked through Josephs Coat in the dark, and soon saw the glow of the fire coming from our camp. The rest of the group was relieved to see us back. We had a great night sitting around the fire, were we recounted the events of the day. I do believe it rained on us again during the night.
Day 4: The plan for this day was to follow Broad Creek up stream to where it connects with the Wapiti Lake Trail. From there we would hike a few miles on trail up to our campsite at Wapiti Lake. Keith and I had walked this section from the other direction last year, and Keith guessed it was only a few miles. His family didn't seem to believe him, and much time was spent mulling over the map. Although there is no trail along Broad Creek here, it is possible to follow game trails in some places. The creek meanders in and out of beautiful, small meadows. The canyon itself isn't very wide, and is surrounded by small, wooded ridges. It kind of feels like a box canyon. We started off by having to cross Broad Creek, which is only ankle deep. We would cross the creek a few more times along the way. The walking was slow, and walking in the meadows was often wet and marshy. We took several breaks. The fall colors were beginning to show up, especially the yellow leaves on the willows. I really like Broad Creek, the entire stretch up to White Lake, and consider it to be one of my favorite ares in the park.
Rick assessing our planned route before we left camp.
Rick crossing Broad Creek just upstream from camp. The first of several crossings.
Mr. Rebec, Colin, and Jamey slogging through wet meadows.
We basically just followed the river.
Colin's turn to check out the map.
Crossing Broad Creek via a log jam.
I really love this section of Broad Creek. The canyon is narrow, and intermittent with meadows and woods. It has a charming feel to it.
The meadows opened up as we neared backcountry campsite 4B3.
Taking a break in the food prep area at backcountry campsite 4B3. The Wapiti Lake Trail is close by.
We reached the Wapiti Lake Trail, and followed it up a few miles to our campsite at Wapiti Lake. Backcountry campsite 4W2 is perhaps my favorite backcountry campsite in the park, although I say that about a lot of them. The campsite sits out on a peninsula near the foot of the lake, and is surrounded by deep, dark, spooky woods. The lake itself really isn't attractive, but is just one of those places in the Yellowstone backcountry where you get that "wild" feeling about where you're at. It can be real quite there sometimes, so quiet you can hear a pin drop. I almost always hear owls hooting in the night. One year we had a bull moose bed down 100 feet away across the lake. And there is that false since of security from sleeping out on a peninsula; If a bear is going to come into camp, it's only coming in from one direction. The trick is to not be the closest tent to shore.
It is just one of those great places to tell stories around a campfire. You are in the woods here.
We got a nice fire going that evening, had a good dinner, and managed to get into bed just before the heavy rains came. It rained the entire night on us.
Walking along Broad Creek at our intersection with the Wapiti Lake Trail
The big meadows along Broad Creek.
Looking out over Broad Creek and its big meadows, as we make our way up to Wapiti Lake.
Our first view of Wapiti Lake. We would camp at the other end.
Getting our tents set up at backcountry campsite 4W2.
Near the foot of the lake. You can see our tents out on the peninsula.
The fire ring and food prep area.
Hanging our food. The campsite shares a food pole with backcountry campsite 4W3, another nice site on the lake.
A nice reflection shot of the foot of Wapiti Lake.
Day 5: Originally, our plan for this day was to explore Hot Springs Basin Group. One of the largest and neatest thermal areas in the parks backcountry. The weather, however, wasn't cooperating, and it rained on us all morning. So we bailed on that plan, and spent most of the day in our tents. Finally, around 3 pm, the rain stopped. Keith and I decided to do a day hike, using the trails in the area to form a 7 mile loop. We hiked up to the Pelican Creek trail, took it down to the Fern Lake Patrol Cabin, used the cut-off trail to cross over to Broad Creek, and followed that back up and around to our camp. At first, we had good weather, and enjoyed the open meadow hiking. Soon though, we started hearing the boom of thunder, and could see a large storm approaching. About a mile before returning to our camp, a huge hail storm hit us, along with heavy rain. Lightning struck overhead, and within minutes I was completely drenched. The hail continued to come down hard, blowing right into our faces. The trail was flooded, and we slopped our way back to camp. Thankfully the rest of the crew managed to keep the fire going in camp during the storm, and we were able to warm up for dinner. Just like the previous night though, more rain would come. Another big storm moved in, along with more close lightning strikes. My tent started leaking, and I had to do some patchwork to stay dry. I unfolded 2 of my Trails Illustrated Maps, and used them to divert leaking water. I placed them on top of my inner tent, while still below the fly, underneath the leaks. It worked.
Keith on our day hike, before the storm hit.
Near where Pelican Creek reaches the trail.
A rainbow. I remember when I used to believe rainbows meant the storm was over.
Storm clouds rolling in. These are the meadows along the cut-off trail between the Pelican Creek Trail, and the Astringent Creek-Broad Creek Trail.
Day 6: It rained all night. It was snowing in the morning. Thankfully this was our last day in the backcountry, and we weren't worried about having to pack up wet gear. Our plan was to hike out to the Pelican Valley Trailhead, which is roughly 14 miles. Despite being overcast and windy the entire day, the precipitation stopped as soon as we hit the trail, and would hold off for the rest of our hike. We started out by backtracking to Broad Creek, and then headed south along the Broad Creek - Astringent Creek Trail. This is a beautiful hike, as the trail continues to follow Broad Creek in and out of meadows. After a few miles, we reached Tern Lake, one of the nicest backcountry lakes in the park. Tern Lake always has a lot of bird life around its shores, and is surrounded by large meadows. I wish there was a backcountry campsite in its vicinity. As we got closer to Pelican Valley, we started to encounter quite a bit of buffalo. A lot of the bison were skittish, which was probably a combination of wolves being in the area, and our large group size of 6. But one large buffalo just wasn't going to move off the trail. He had this crazy, evil eye, and just stared at us while we walked past. Most bison will stop munching on grass when they look at you, but not this guy. He just kept munching. He did not give a crap. Interestingly, no one in the group stopped to take a picture of this particular buffalo.
The foggy views of Broad Creek as we backtracked from our camp over to the Astringent Creek-Broad Creek Trail.
Me walking along Broad Creek.
A big bend in Broad Creek near backcountry campsite 5B1.
Keith holding up an elk skull. This skull has been sitting by the cut-off trail junction every time i've hiked out there.
Approaching the Tern Lake meadows.
A candid shot of me taken by Keith. Notice the wooden stick in my hand. I had completely broken one of my tripod legs, and used this stick to balance the tripod for the last 3 days.
Same photo as the one above, but zoomed out. Beautiful meadows along Broad Creek as we neared Tern Lake.
Tern Lake.
Continuing down the Broad Creek trail towards White Lake.
After passing White Lake, we left Broad Creek, and soon dropped down along Astringent Creek.
The meadows began to open up, and soon we found ourselves walking out into Pelican Valley. These large, wildlife rich meadows are some of Yellowstone's finest. The high peaks of the Absaroka Mountains to the east give the valley a dramatic backdrop. We dodged several more buffalo, crossed Pelican Creek, and spent the last few miles listening to dramatic thunder booming to the south. Somehow the storm missed us.
Reaching Pelican Valley.
Storm clouds in the distance.
The old bridge along Pelican Creek.
Mr. Rebec and Rick crossing Pelican Creek. For Mr. Rebec, this would be his last river crossing of the summer in Yellowstone. His nightmares are over now.
Me with Pelican Valley behind me.
The end.
Last edited: