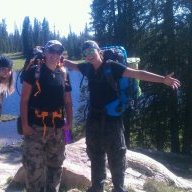 Joined

May 8, 2014
Messages

27
Hey everyone!
Me and a friend are looking for a short, overnight backpacking trip to get away from the city this weekend. We live in Salt Lake City and are willing to drive up to 4 hours away to go somewhere. Any suggestions?
Also, my friend was thinking Pleasant Creek?? but we cant find anything online about whether or not you can camp there. Does anyone know?
Any suggestions are greatly appreciated!