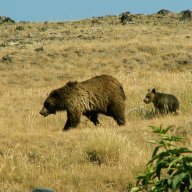 Joined

Jan 23, 2012
Messages

601
What have you backpacked in Yellowstone? I was thinking about hitting it last year didn't make it. Gotta admit, the bears kinda freak me out.
Nick, I've only hiked in the backcountry of the park to date. We usually car camp at Canyon or Grant or stay in West.. I've been pretty much all over the park though including the trails that the people were mauled on. Wapiti Lake and Mary Mountain trails. My favorite destination to date is to Riddle Lake very pretty with views of Mt. Sheridan and the always present threat of stumbling upon a bear.
I love hikes with views and there is an abundance of them up there. It's not hard to get away from the road warriors as I call them. My avatar is Trout Lake a short hike but pretty and a chance to see otters and spawning cutthroat. When I do go on that backpacking trip I will probably hit up the Thorofare Trail in the south. Start on the east side of Yellowstone lake and come out through Heart Lake. Of course there are restrictions on certain areas at certain times of the year because of bear management usually until mid July. I have been there every year since 93' and still haven't stayed in the backcountry. What a shame on me.