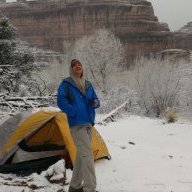 Feet on the ground, head in the clouds
Joined

Apr 11, 2012
Messages

227
Not sure if anyone saw the artical on America's best campsites in the last backpacker but they included one in Coyote Gulch. It's a nice spot, I stayed there a few weeks ago but, there was also about 10 buried firepits there.
My understanding is there are no fires allowed in the Gulch. I would assume this is because of the limited vegitation and the fragile ecosystem that feeds into the stupidest lake ever.
Additionally, there were a ton of people throughout the gulch. I like seeing people in the backcountry, it's fun to take a break and chat, maybe get the head right but in my opnion, if a major publication is going to direct people to area's in the backcountry, they have a responsiblity to make damn sure they pass on the rules of the trail as well.
On another note, the Blue Lake site here in Colorado that was listed is now on my list for the summer and the Glacier site on the cover is on my bucketlist.