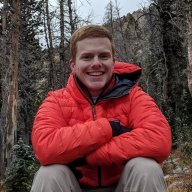 Joined

May 31, 2015
Messages

2,645
I understand that listening to music while hiking can be a divisive topic, but what music (genre, artist, song, whatever) do you all like to listen to when you're in the car headed to the trailhead, if any? I have a few special playlists that I only play when I'm headed out on a big trip, and so that has made me wonder if anyone else does something similar.

I think my notion of backpacking is strongly influenced by my grandpa, who did a lot of his backpacking in the 60s-70s. Because of that, and whether correct or not, I tend to think of that era as a golden age of backpacking, so I like to listen to psychedelic rock and rock from the early to mid 70s while I'm on my way to the trailhead. Bands include the Guess Who, Jefferson Airplane, Cream, the Who, the Doors, America, and the Rolling Stones.

So what do you all listen to to get pumped up right before setting out on a trip?