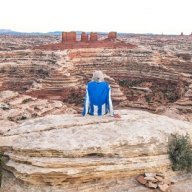 Joined

May 18, 2012
Messages

295
Happy New Year. For years I read up in Kelsey's Lake Powell book and other books and studied obscure websites with lots of info about hikes off Lake Powell. But the distances and some approaches - which may even be impossible now by boat or foot - will have changed now with current lake levels, but how much I don't know. So wondered if anyone had been to any of these at near current levels. In Kelsey's book he was talking about 3606 being low. Now it's 3524.
IN ESCALANTE ARM, can you still get to the entrances of DAVIS and FIFTY MILE?
Are there any problems getting to La Gorce Arch or 50 Mile Creek's narrows such as waterfalls, very hard upclimbs, quicksand, logjams, bad bushwacking,
I presume it's now a really long hike to the mouths of FENCE and COW canyons in Escalante arm.
Are there any stunning features or slots that have now been revealed in Escalante arm? (or anywhere else on the lake for that matter? (My dream is for Dungeon to emerge as it looks stunning in pre-Glen Canyon dam photos
Also interested in ICEBERG canyon. I presume the canyon's end right fork is still pooled by a natural dam? Wondered how far you have to hike from high water mark to reach that dam if that's changed?
One person pre-new low levels said you need to drag a kayak over the dam in order to cross the lake to hike on to alcoves and caves at the end of the canyon when lake water is high? But maybe that lake has shrunk now so you can hike around its edges?
(These were the notes on Iceberg for someone who has explored loads of the Powell' canyons hundreds of times a long, long time ago after the Glen dam, but when Powell levels were considerably higher.
(!) ICESRF: Iceberg second right finger, 0.77 miles GPS direct, ~0:45 one way from brushy end at full-pool up and down on decent braided trails to huge sandy flat, gardens, and pool; probably the biggest amphitheater at the lake, bigger than even "Dougs Cathedral", with a comparable 600-700' drop from the rim. You can also overlook this spot. Awesome cave on river-left along the way, not very big by Powell standards, but the greatest depth-to-height ratio I've seen at the lake. (Obstacle to getting here: Below full-pool, natural dam forms a lake up the finger, you'd have to drag a kayak over or something. Do it at full-pool, or else much lower, when it's a much longer hike.)
Finally
How long is the hike now to FACE's slot?
And how long is the walk to the narrows in SMITH FORK?