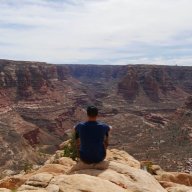 Joined

Apr 22, 2018
Messages

77
Hello everyone,

I am planning a 4 night trip to the Winds in a few weeks and am trying to finalize our route. We do have 2 cars so shuttling is an option.

The original plan was Elkhart to Green River Lakes over Knapsack Col. Doing this route required shuttling and planning a longer drive on the front or end of the trail. I was considering a Northbound hike more likely than Southbound, although I would love to hear your pros and cons of both routes.

After doing some digging I was looking at starting at Elkhart, camping at Seneca or Island lake night 1. Day 2 heading up Titcomb, over Knapsack and camping at Peak Lake or lower weather dependent. Day 3 from here is where I was considering up Shannon Pass and camping at either Elbow lake, or Upper Jean Lake. From there heading back towards Elkhart and camping at Island Lake for the final night. Hike out day 5.

I would love to hear any input on these routes, and even other options with the available time slot we have. It will be 3 of us, 2 very experienced backpackers and one who has done 4 pass loop in Colorado and a couple other trips. So nothing more "off trail" than knapsack provides.