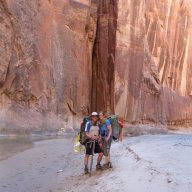 Joined

Dec 5, 2017
Messages

973
Now I know why so many of you rave about the Winds! This trip was breathtaking in so many ways - jaw-dropping eye-candy plus challenging hiking that made me huff and puff more than I would like. I have never seen so many lakes in my life. We had a fabulous trip - gorgeous scenery, great weather (well, that includes 2 hailstorms which were quite exciting), almost no bugs (never used our bug spray), almost no crowds, and smoke-free skies most of the time. We will be back!
Our friend who has experience in the Winds planned a wonderful route; it was a lollipop with a short stick: Elkhart - Seneca Lake - Upper Jean Lake - Knapsack Col - Titcomb - Indian Basin - Tommy Lake - Elkhart
Day 1 - We started at Elkhart Park and enjoyed the beautiful lakes along the way - Barbara, Hobbs, and so many others.
We got our tents set up above Seneca Lake just before storm #1 arrived.
After the storm, the sky cleared - at least until later that night...
There was a tremendous storm in the middle of the night. I heard a rush of wind approach from far away until its full force was upon us - I have never experienced this before. Our tent stayed dry.
Day 2 - Seneca Lake to Upper Jean Lake
I lost track of which lake was which - so many to enjoy!
Fremont Crossing
We got our rain gear on, covered our packs, and waited out the first hailstorm by a boulder above Lower Jean Lake. Brrr!!!
We set up our tents near Upper Jean Lake and stayed dry during the second hailstorm of the day... (view from inside our tent)
Day 3 - Upper Jean Lake to the east side of Knapsack Col via Peak Lake - this was a big day!
Loved seeing the sun finally peek out from behind the mountain!
Starting to head down to Peak Lake
I tried not to take too long photographing the wildflowers!
Gorgeous Peak Lake
Some of us were a bit intimidated by this part - the trail around Peak Lake was sketchy with loose scree close to the edge...
The long climb up toward Knapsack Col. We were excited to see the headwaters of the Green River (not shown in this photo but nearby).
This was so tiring for me! Our friend was up ahead in the green shirt.
Made it to the top! But now we have to get safely down. Yikes!
Love seeing the glacier close up.
Later that night, after this beautiful scene, I watched the planets and stars appear in the sky one-by-one. I was thrilled to see shooting stars, too. Happiness.
Day 4 - Knapsack Col to Titcomb Basin (plus hike from campsite up to Mistake Lake)
Look at our tiny tents below Mt. Helen!
Titcomb
Purple Monkey Flower
Fun to camp below Fremont Peak, which we had seen from a distance for so long.
It was definitely not a mistake to head up to Mistake Lake - I loved this! In this photo, it's the lake on the right, with Titcomb Lake on the left (but actually way down below).
I only saw these flowers (star gentian) at Mistake Lake.
Day 5 - Titcomb Basin to Indian Basin (plus hike up to Fremont Saddle)
This was another big day. After setting up camp in Indian Basin, we went up up up to Fremont Saddle. I loved the views, but I get so tired on big uphills!
View behind us as we headed toward Indian Basin
In Indian Basin, I loved the different colors and designs in the lake based on water depth.
Views from Fremont Saddle
Then we went up a little higher and loved this view into both basins, Titcomb and Indian.
Back in camp, I loved this reflection of the setting sun lighting up only bits of Fremont and Jackson Peaks.
Day 6 - Indian Basin to Tommy Lake via Lester Pass
Such a peaceful way to start the day...
There were SO many people at Island Lake. I am very thankful to our friend for planning a route where we passed by this area quickly and didn't camp here.
As we approached Lester Pass, we loved the views ahead and behind us.
Tommy Lake was a beautiful place to camp. We lucked out with an incredible sunset that night!
Day 7 - final day - Tommy Lake to Elkhart Park via Pole Creek Trail
Yet more beautiful lakes!
Eklund Lake, with its scenery in the background, was stunning!
I found it fascinating that from Photographer's Point you see one only lake, and if you didn't venture further you wouldn't realize how many hundreds of lakes are hidden amidst the remarkable terrain. What a special place this is!