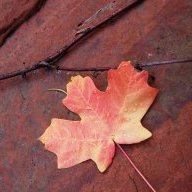 Life really is better Here
.
Joined

Apr 20, 2013
Messages

1,243
I have a confession... this year it has been keeping me out late at night and away from home. It has become too obvious and some people are starting to wonder.
I have to admit that I am struggling to stop.
The snow has just been too perfect, and there has been oodles of it.
No overnight this weekend, as the timing just did not work out. However, all it took was a bribe of KFC and I had a mostly willing trail partner.
Today was the definition of bluebird. Sunshine galore. Still some untouched snow from the feet that fell this week. No wind.
I had been stood up earlier in the day, and was stir crazy, work was also slow, so I was out of work early seeking sunshine. Then it took some time to get someone to tag along. However, the timing was just about perfect. She was just not motivated to make the mileage she normally would, but that was fine.
Once on the trail. We spent time rolling snowballs down one of the slopes. She made a snowball she named Harold. We chased a pair of coyotes up the trail. We laughed at some chickadees...or small gray birds at least. Also watched a couple woodpeckers coming out of the holes in an aspen. We only saw four skiers on the way up, and heard some voices (real ones), but that was it on one of the more popular trails.
Only downsides were that she lost her sunglasses, and when she made me listen to some of the music where our tastes do not overlap.


Mini prisms.
Tonight's partner in crime. Cresting a climb.
Cloudless sunset with a little inversion.
The moon was casting shadows and just enough light on the way down. Orion was up overhead and as we crossed the six or seven feet of snow that was on top of the bridge over the creek, we stopped and talked about the strength of the wooden bridge and the tons of snow it was holding. Then it was back to the Jeep and that other reality.