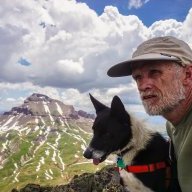 Joined

Mar 6, 2014
Messages

577
Quick overview:
Last weekend in Feb, 2016, with my son and his buddy. Three days.
Easy hike down to put in, with a spring nearby. Maybe 3 miles.
Water level 100-120 cfs. Lots of hunting for the deeper channels. Some wading. In and out of the boat a lot. Still fun.
Excellent hiking in No Man's and Larry's.
Set off most of a day for the Burr Point exit. Incredible hike. 7 miles.
Lacking two cars so we did a bike shuttle. 18 miles of easy riding, avoiding the highway.
DSC04663
by
jan nikolajsen
, on Flickr