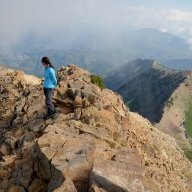 Joined

Oct 5, 2014
Messages

39
I am almost embarrassed to post this in the backpacking section as it is such a short trip. However, if like me you are seeking a quick overnight trip to get out there before the real snow comes and the fall color fades, this might be a good spot at the moment.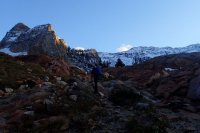 We got away from work a little later than hoped on Thursday setting off from the trailhead at 4:30 pm. Pressing on as I wanted to try and capture sunset, we got to Lake Blanche at 6 just as the last of the daylight touched Sundial Peak.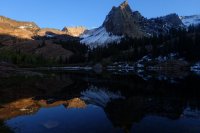 We found a nice campsite up behind Lake Florence overlooking the valley we had hiked up and cooked dinner while taking in the sunset. Not many clouds to make it amazing, but we still enjoyed the changing color and fading light.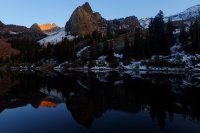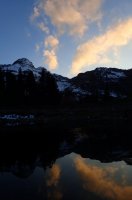 We thought we would end up in our sleeping bags soon after sunset but we had sufficiently layered up to be comfortable. Watching the (full?) moon slowly illuminate the hills and then come over the ridge was a very fitting end to a lovely evening.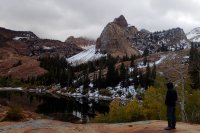 Clouds shrouded the peaks when we first exited our sleeping bags but after refueling with breakfast, they had broken up a bit. The next hour or so we wandered around Lakes Florence and Lillian.
The view back down the valley with some fall color: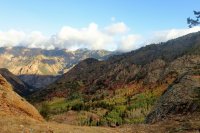 A few views of Lake Florence: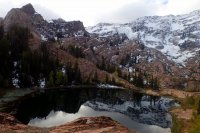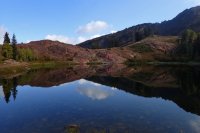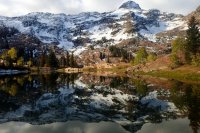 And Lake Lillian: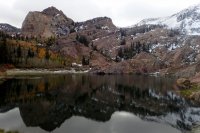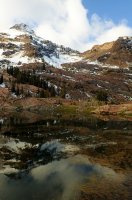 Exploring the dams: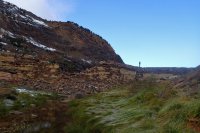 The lake outlet: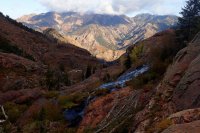 We enjoyed our time exploring around the lakes and only saw two other people who were also camping. Passing by Lake Blanche at 11 am as we were leaving we came across quite a few day hikers. Unfortunately the wind was really starting to gust so reflections weren't happening for them and it gave quite a chilly feel to the air.
Last view of Sundial Peak before we started the descent: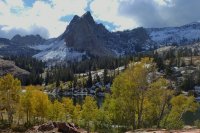 It took us the same time to go down as we took coming up - many stops to let the uphill day hikers pass and appreciate the fall color.
Some aspens are yet to change color: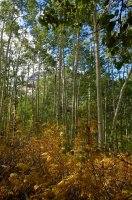 Hills aglow: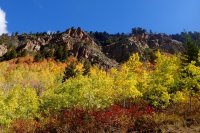 Looking back up to Dromedary Peak: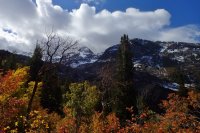 Nearly down: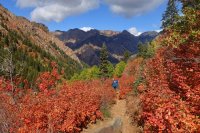 Sadly, this was only the second time (and probably last time) we've had our backpacks on this year. Other trips including car camping and kayaking have taken precedence. This was a very worthwhile overnighter (so much better than day hiking there) and I would appreciate other suggestions of other good quick trips to do nearby.
Last edited: