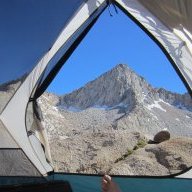 Joined

May 24, 2015
Messages

112
Our original summer vacation plans got shot down when the virus hit. So we pivoted and decided Iceland was still safe to go to but shortly thereafter that country stopped allowing visitors from the US. So we had to look for a domestic destination. Fortunately, Alaska had just implemented a program to allow us to travel there as long as we got tested at home 48 hours before arriving. We put together a trip itinerary and figured out the testing requirement. We left from San Diego and this was the new marker on the floor of the SD airport as I was leaving.
Our first stop was Juneau. The town relies heavily on cruise ship tourism which was non existent. So it was very quiet all around town. There were eagles everywhere we went. At low tide they would land on the tidal flats of Gastineau Channel.
Juvenile and two adults
Showing off his feathered pants
We picked up Mark and Lisa at the airport and then hiked out to Nugget Falls on Mendenhall Lake
Mendenhall glacier and Nugget falls
Sockeye Salmon coming up to spawn
Merganser mom
The place we stayed at was right on the channel and came with a kayak. Mark took one out for a paddle at one of the extreme low tides.
A family of otters frolicked up from the water right on to our property.
Later they took a nap near an eagle as the tide came back in.
This poor juvenile eagle looked like it was being lectured by a parent from both sides.
We also drove north to a pace called Eagle Beach. Along the drive there was a tree with many eagles in it.
Eagle beach had fewer eagles than Juneau, but at least there was one. We were able to hike all the trails of this park in a few hours.
Our next stop was Denali park. Private car access into the park is very controlled. There is only one road in for 65 miles then you turn around and drive back on the same road, the same day. They do have huge group tour buses also. They have a lottery to allow a small number of private vehicles to drive into the park each day. We tried that avenue but could not get anything. Instead, we signed up with a guide who would lead us into the park while narrating. With new covid precautions in place, the guides and the park worked out an arrangement where the guide and his clients would not be in the same vehicle. So our guide drove his vehicle in front and narrated over a radio to his two client family groups behind him in two of his guide vans. In this manner, we were allowed to drive almost the length of the park, as long as we followed him and did not make any unscheduled stops to get out of our vehicles.
The day was really good for scenery.
The road was in good shape, considering they have to repair it after every winter season. Our guide was driving a Tesla the entire 55 miles into the park on the dirt road. Pretty impressive. We followed in his large, high clearance vans.
We saw four of the big five mammals that the park has to offer.
Caribou
Dall Sheep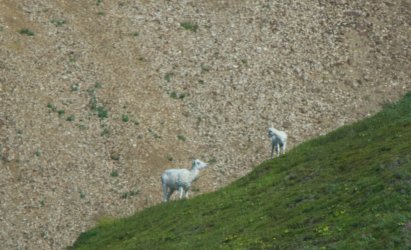 Brown bears
and Moose
We did not see any wolves. We were told the best chance to see wolves would have been on the last 10 miles of the road that was not open to the public. We also did not see Denali. The guides like to try to see the big five mammals, plus one, as a bonus. Denali being the plus one. The mid summer weather dynamics make it rather rare to see the upper part of the mountain. The mountain is always making its own cloud cover up there. This was as close as we got to seeing Denali....it is under that pillow of cloud cover.
The next day we did not have access into the interior of the park. We filled the day with some great day hikes near the park entrance. Horseshoe Lake was very scenic and uncrowded.
There were lots of beaver dams slowing down the water, which attracted lots of moose. This mother and calf put on quite a show. The mother moose was busy shaking her head
Then the little one would prance around splashing as much as he could, back and forth.
The young moose was definitely playing around. Trying to get mom to play also.
Making some moose drool.
We were treated to some good weather dynamics while we were hiking.
Approaching squall
Double Rainbow back at the cabin.
We also stopped at Seward, south of Anchorage on the Kenai Peninsula. Here, we signed up to kayak up to a glacier in Kenai Fjords National Park. The ocean boat trip to the kayak put-in took us by some outer islands and we saw some good views of whales and other sea life along the way to the national park.
Harbor Seals
Steller sea Lions
Horned Puffins, My first time seeing these cool birds. Good flyers but really good swimmers. Capable of catching multiple fish on one dive.
Sea Cave bird sanctuary.
We saw some whales and I was able to get decent shots of their unique tails. After the trip, we uploaded the tail pictures onto a whale ID website and I was later informed of the whales name and history and recent travels. They have a big database and get help from people sending photos and locations of their sitings in to help keep track of as many individual whales as possible.
This is a mother and calf
We landed the boat in the National Park and unloaded the kayaks for our paddle to the Holgate Glacier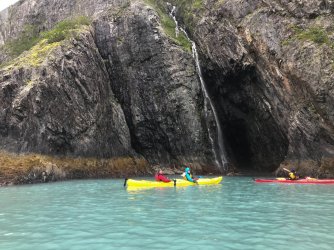 We paddled right up to this Oystercatcher.
You know you are seeing something special when the locals, who get out every day, get really excited. The tour folks were very excited to see a mountain goat all the way down at the beach, sea level, probably licking salt off the rocks.
He climbed up the steep rocks and watched us as we paddled below him. I did not expect to see a Mountain goat on a sea kayak trip.
The paddling was easy in the protected bay but the weather would come and go. This cloud knocked out the visibility for a few minutes.
Then it would clear, so we hurried and took pictures in front of the glacier.
Tim and Jean
Every once in a while the glacier would calve off some large chunks of ice onto the beach or into the water but it was hard to anticipate where and when.
Mark and Lisa at the border of where we were allowed to paddle to.
A Puffin with a successful dive.
A beach where we landed and walked around
The boat came back, picked us up and took us back toward Seward.
The boat captain pointed out this distinct thin inversion layer caused by the cold air draining off of the glaciers onto the warm water of the bay.
The trip would not be complete without a final siting of another Bald Eagle perched on a sea rock.
That was our hasty trip to Alaska. We did a lot of the tourist type stuff but learned a lot for next time. One important thing I learned was that cars have restricted access into Denali and are only allowed to stop at the designated turnouts. However, if you are on a bike, you can stop anywhere and bike permits are not regulated. So you could do a bikepack trip the length of the 65 mile dirt road without any permit restraints. That would offer a lot more freedom to explore.
tv
Last edited: