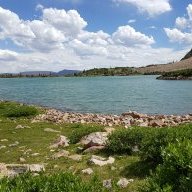 Joined

Aug 8, 2016
Messages

2,070
After a lazy Saturday morning I decided to get out and get walking. One of the few places with public access in the county in which I live is the East Canyon Wildlife Management Area. Being closed to the public from December until the second Saturday in April it was time to get into the canyon before cattle grazing commences. Being early in the season the cotton woods and scrub oak had yet to leaf out but the grass was just starting to green up. I was sure I would be hitting snow as I climbed into the higher reaches so I brought along my micro spikes just in case.
My route would take me about two miles from the trailhead up the bottom of the canyon. Here's a video documenting the day...
An obscurely marked side trail rises quickly up to the north east providing a first look back down the canyon.
The trail follows a long ridge eventually fading out at its head. From here on travel would be all cross country, climbing more steeply, providing a first peek west of the Wasatch Back.
I began to encounter soft snow and somewhat muddy conditions at approximately 7,500 feet. Staying on the more southerly facing angles helped a bit. A look back showed the canyon below and some of the prominent peaks north of downtown Salt Lake City. Pretty sure Grandview Peak just just left of center.
Reaching the second of two red rocky outcroppings revealed East Canyon Reservoir below. Off to the left you can see the ski areas in the Park City area. To the right some of the big Wasatch peaks.
The Morgan Valley appears below the Wasatch Back skyline. Prominent is Mt Ogden just left of center, Ben Lomond just right of center and Durst Mountain on the right.
Arriving at Redrock Peak provided a nice 360 degree view in spite of only being 8,100 feet high. Hanging cornices adorned the east facing side.
Looking east, carefully, you might see some of the big peaks in the Uintas.
A stop for a snack break on the way down at the lower rock outcropping. A view of the route out.
A zoom in of the big peaks south. Pretty sure Mt Superior is in the middle. Can you name some of the others? Man! There's some serious snow up there!
I found the composition of the rock outcroppings interesting. Exploring around them I had two large squirrels playing hide-n-seek with me. I kept trying to get a shot of them but they refused to stick around long enough.
It was a very nice afternoon out in my backyard!
Last edited: