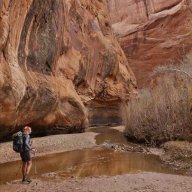 Joined

Jan 4, 2015
Messages

2,745
Looking forward to my annual "big trip" this August. I'm hoping to do a route through the Absarokas. I've done some off-trail stuff in the Winds and in the
Beartooths
, but never been to the Absarokas. I'm hoping those of you more familiar with the GYE can provide some helpful feedback about the route I'm trying to do.
This route intentionally eschews trails and forested valleys, and stays as high as possible without involving (I hope) technical travel. I will be doing the route solo so nothing above Class III. Is this route doable in, say, a week or so? Is this too ambitious of a project? Any trouble spots? Any re-routes, or must-see places to hit? Everyone's comments are welcome!
Note the blue line (between US 20 and the Beartooth Highway) is a lot more speculative and can probably be ignored. Looking for feedback primarily on the red section (between US 26 and US 20). Thanks!
Click here to view on CalTopo