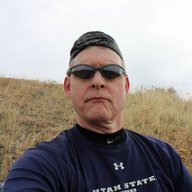 Joined

Dec 23, 2013
Messages

2,941
Excellent write up Hugh! If I could give it a dozen of the heart-eyed emojis I would.

I think the best way to describe you Hugh is to say that you are the equivalent of a Circus Peanut that has been sitting out on the counter for a few days. The outside has developed a tough shell but once you break thru it the inside is soft and fluffy.

Before we met, I knew you had a good sense of humor by reading your past trip reports. Our first trip together confirmed that; it also showed me you were competent and confident in your place in Yellowstone. So, like any parasite would do I latched on and let you lead me to areas I had no business going to on my own.

Hugh and I seem to share similar personalities -- we both tend to be quiet people that simply enjoy being in the wilderness. Planning routes to different parts of the park has been fun in the "offseason." Hugh always considers my requests for side trips to various thermal features, waterfalls, etc. and I always try to find a spot he has not set foot in before (Not an easy task! Dewdrop Lake in 2024?

).

Sending him that first PM several years ago was the best thing I could have done in terms of exploring Yellowstone. Hugh is an encyclopedia of knowledge when it comes to the backcountry. He will not admit it, but he is a fun guy to be around too. You just have to coax that internal clown out with the occasional witty trailside comment or unexpected campsite snack. He will test you with miles of downfall, countless water crossings, and questionable bison herding techniques, but if you have the opportunity to join him on an adventure I'd highly recommend it!

Many of these will be reposts, but because this is

@scatman

's report I wanted to add in more pictures featuring him.

Crossing Sour Creek.

View attachment 117640

Camp at Wrangler Lake. Who's tent needs help?

View attachment 117641

Climbing the Hill next to Bog Creek.

View attachment 117642

Hugh next to his favored Pond 8512

View attachment 117643

Every hike demands a little blood. . .

View attachment 117644

And the occasional rest stop.

View attachment 117645

Leaving Joseph's Coat. They should have called it Joseph's Rain Coat.

View attachment 117653

Hugh's way of crossing Broad Creek.

View attachment 117650

Conquering the treacherous Orange Hill.

View attachment 117651

Hugh contemplating what he had gotten himself into as we approached the halfway point of the trip.

View attachment 117652

A little snack on the way to Hot Springs Basin.

View attachment 117649

Overlooking Hot Springs Basin.

View attachment 117663

Camp at Wapiti Lake. Hugh's expression says it all. No wonder he left early on the last day.

View attachment 117654

Catching up to

@scatman

on the Death March.

View attachment 117647

Victory is ours!

View attachment 117648

Somewhere I have a picture of the crew after we unloaded all of our gear in the Canyon Lodge Cabin. I'll have to do a follow up post when I find it.

Thanks again for letting us tag along Hugh. Bog Creek and Hot Springs Basin were real Hi-Lites for me in 2022. Definitely looking forward to 2023!
Great shots Dave! Thanks for sharing. You are way too gracious in your thoughts on hiking with the Scatman. Have a couple shots of whiskey and then try again.
I still think that tent on the right needs a little work.
How many face plants do you think I'll have next year? Maybe this group needs to wager on how many.
What prize should I give out for who comes the closest?
I'm have this feeling deep down in my gut that says we need medium format cameras on next years adventure.