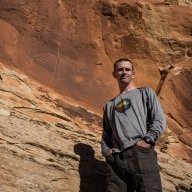 Wildness is a necessity- John Muir
Joined

Jan 4, 2014
Messages

1,099
Continued from
A Week in Cedar Mesa's Canyons, Part 1
3/21/16
Alone. It's not for everyone but I can't say I've ever minded. It makes decision making a lot easier and certainly changes the experience. So when I found myself in that condition after a few days of adventuring with friends I found an excitement with all the possibilities. I had nowhere to be, so why not stick around Cedar Mesa and see some more things?! Off to the Kane Gulch Station I went to see if I could nab a backpacking permit for Grand Gulch!
Arriving at the parking lot… my hopes did not rise.
A significant problem with how society has progressed is that they must vacation away from their lives, and usually that gets concentrated around certain time periods… weekends… holidays… school breaks… Ugh it's a bummer that time runs as it does.
It being the middle of spring break season with gorgeous weather the parking lot was packed. The volunteers at the front desk confirmed that when I inquired about my plan A. In fact they looked a little harried… I wonder if they knew what they had signed up for. That said, they were extremely friendly and encouraged how I could day hike my backpacking plan… but I wanted to backpack. So I brought up plan B, and got a permit. A thirty minute drive around to the western side of Grand Gulch saw me at the Collins Spring TH for a couple days in the lower canyon.
Much to my wilderness chagrin, a group of boy scouts that would vex me a couple times were also there. They looked ready to go when I arrived, maybe they'd leave while I was packing my pack. Alas they left a good 5 minutes before I was ready to go and I ended up leapfrogging them all the way down the canyon. Grr!
But I still got to enjoy the sights. A beautiful canyon, nice trail, a little water, and a cowboy camp! Sadly messy but the cling peaches can was neat.
Reaching Grand Gulch far more quickly than expected, I set out for a campsite and quickly found one I highly approved of. I set up, ate lunch and pondered my options. What could I see walking up canyon? Down canyon? Hrm… Down canyon it was!
And shortly I ran into the scouts again. Good jeez! Better yet, they were lost. Kinda sad that people who are facilitating outdoor learning can't read a map and recognize meeting a major landmark… A lot of restraint had to be had when one grumbled at the lack of a sign (GO THE HECK BACK TO YOUR CAR!!!) and I quickly ridmyself of them by helping them orient.
Down the canyon I went! It was nice. Definitely not the easiest hike, skirting pools, beating through brush, and lots of loose ground but it was pretty and the occasional ruin added special spice.
I was a little concerned about time but was determined to reach a couple rock art panels before turning around. The dark isn't my favorite time to hike… but things worked out as I hit a nice panel and then the "Red, White, and Blue Panel" after that.
Getting to the panel of course had to be done… Definitely an interesting choice of site. Pretty view though!
And back to camp I went. It turned into a bit of a trudge. The trip back never seems as fun. But I got back to camp before dark, so that was nice!
3/22/16
After a nice night's sleep and calories in the belly I set out up the canyon for the day. I had no idea how far I would get or if destinations would be worth it but I figured a day out in beautiful country was worth the walking.
Before long I encountered Banister House Ruins. Not a bad spot at all and if that bannister is as it was, the residents must have thought so too.
From there it was a walk through sinuous canyon and a lot of heat (warm day) past a few ruins before finally arriving at the Black House. By then I was feeling the accumulated miles so I spectated from the ground, as opposed of finding a way up to them like another group had, and found the ruins to not be the best in the world. Worth the trip, yeah, but I could have gone without. If anything the granaries on the same ledge were the cool sight!
Black Ruins
After that it was back down the canyon to camp. A couple ruins I had missed on the way up were nice sights to keep my head up as opposed to looking at the feet and then before I knew it I was walking by petroglyphs I had passed by! I must have been tired letting so much pass me by. It was a nice and big panel too.
All day had been breezy but until then things had been fine. Light clouds had moved out and it had turned into a balmy day. Something changed though as I finished the last mile of my hike. Quite the windstorm developed. Looking up to navigate became an issue. Getting back to camp, I found a good layer of sand in the tent, making me praise the choice to stuff my sleeping bag that morning.
The remainder of the day was spent in the tent. The desert had turned into a very unpleasant place.
3/23/16
The next morning dawned breezy but not windy. That was nice. The coldness in the wind wasn't so nice though. I didn't do much loitering. Camp was quickly packed and back up to the car I went. On the drive out I saw fresh snow on the Bears Ears, not to mention a bunch of snow along the drive to St George, so I guess I lucked out. While I was tired and a shower sure felt good when I got home, it was a downright good trip!
Last edited: