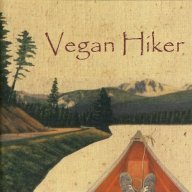 Joined

Jul 5, 2014
Messages

2,099
On June 14th-17th I spent 4 days backpacking the Pemigewasset Loop (Pemi Loop) in the White Mountains of New Hampshire. While the version of the loop I did was only 33.7 miles, it required climbing over 9,000 feet (9,052'). I'm sure many of the more seasoned hikers on here have far exceeded this, but it was a personal best for me in terms of elevation gain in a single trip. While it was definitely challenging in several spots, it wasn't as difficult as I thought it would be going into it. I paced myself, spreading it over 4 days when I could have realistically be done it in 3 (2 if I really pushed myself). But I don't regret spreading it out over 4 since it was one of the most scenic hikes I've done and I was able to take my time and really enjoy myself.
I worked during the off-season on getting my base weight down to 11 pounds, but with my dog Lucy in tow, it was up to over 14lbs since I carry her sleeping pad (half a Z-Lite) , her fleece sweater (fernie), a second sleeping bag for her, and my 2P tent instead of my 1P. She carried her own food. I used my new pack for the first time (Zpacks Arc Haul) which I loved. It was extremely comfy for a 25 oz pack and the pockets and rain pack liner (instead of a rain cover) were really convenient. I also got to test out my Enlightened Equipment rain wrap which did it's job just fine in consistent rain on day 1.
The route summited 11 mountains. All but two (Little Haystack and Guyot) are included in the official list of the White Mountain 48 High Peaks. The peaks that I climbed, in order, were as follows. The elevation of the trailhead where I started and ended was 1,162'.
Flume Mountain (4,328')
Mount Liberty (4,459')
Little Haystack Mountain (4,760')
Mount Lincoln (5,089')
Mount Lafayette (5,249')
Mount Garfield (4,500')
South Twin Mountain (4,902')
Mount Guyot (4,580')
West Bond Mountain (4,540')
Mount Bond (4,698')
Bond Cliff Mountain (4,265')
Gaia tracks and stats attached below for anyone who cares. , I hiked clockwise staying at three tent sites located down short spurs along the route (Liberty tent site, Garfield tent site, Guyot tent site). These sites had tent platforms, a bear proof food locker, food prep area, and were all located near a water source. I arrived at the trailhead around midnight Wednesday night and tested out the new folding
sleeping platform
I built for my car and skeeter beater window screens.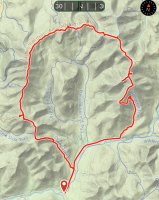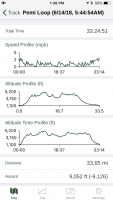 Day 1
The forecast for day 1 was for rain and clouds, but the forecast for the following 3 days were for perfect weather. I figured I'd take that deal. The first day was about a 4k foot climb over 2 mountains (Mount Flume and Mount Liberty). I knew I'd be hiking in the rain and I knew I would be socked in by clouds blocking the views and that's exactly what happened. I also knew that if I pushed through day 1 that I'd be set up for an awesome 3 days of ridge line hiking and clear skies afterwards.
Entering the belly of the beast. The suspension bridge crossing over the Pemigewasset River near the Lincoln Woods Trailhead.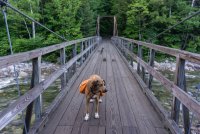 It was a misty, foggy morning on the Osseo Trail. As I climbed and got closer to the ridge I could see the clouds whipping through the forest.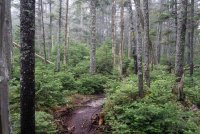 As we climbed out above treeline and onto the ridge, I could see just how thick the clouds were. There would be no views today. Today was just about setting myself up for the next 3 days without getting my spare clothes and sleeping gear wet. The summit of Mount Flume can be seen behind Lucy in the clouds.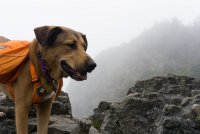 Not sure if Lucy was aware of just how big that drop was.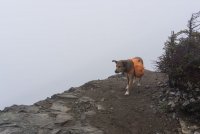 No views today Lucy.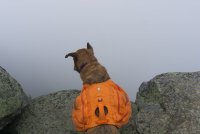 There were some intermittent gusts but luckily the wind wasn't whipping too bad up there.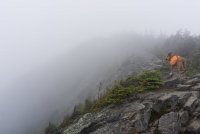 Day 2
Getting back on the ridge on day 2, I could see a blue sky above an undercast.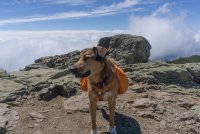 Lucy watching the cloud cover burn off below her.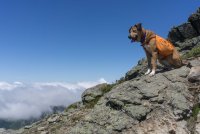 The clouds burned off pretty quickly giving us a day of clear view ridge walking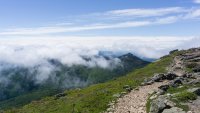 A few stray clouds hanging around the ridge that would be my return route in a few days.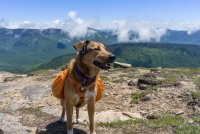 Looking at Mount Lincoln from Little Haystack. This is around where the AT comes in which I'd be following for the next 2 days of the trip before it veers off to the north.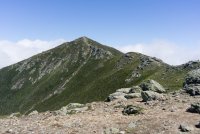 Mount Lafayette. You can see the trail going up it's ridge to the summit. Luckily those clouds were gone by the time I got up there.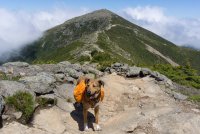 Looking back along the ridge at one of the false summits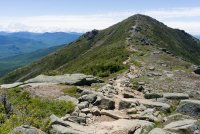 Still heading up Lafayette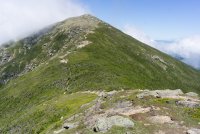 Another look back.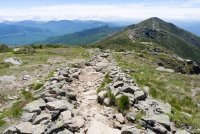 The Pemigewasset Wilderness from the summit of Lafayette. My return route in the distance. In the FAR distance left of center is Mount Washington and the Presidential Range.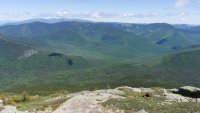 Two cairns along the Garfield Ridge Trail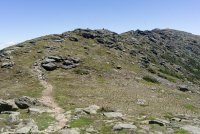 Picture taken from one of the cairns seen in the last picture.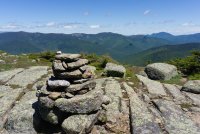 Lunch break spot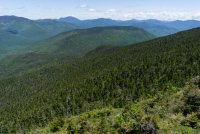 View from Mount Garfield. Took another break up here and watched the shadows of the clouds. This is near the midpoint of the loop.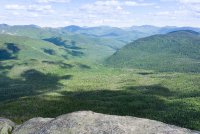 Lucy resting atop Garfield with the ridge line we'd be hiking in the coming days behind her.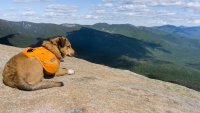 DAY 3
Back on the ridge and atop South Twin Mountain. This was probably the toughest climb of the trip with an 1,100' climb in just a little over a half mile.

Lucy heading up to the bald round summit of Mount Guyot.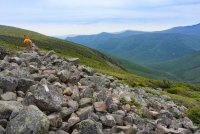 The grassy bald of Guyot on the left

After setting up camp at the Guyot tentsite, I slack packed the spur to West Bond Mountain. Behind a sleeping Lucy you can see where I had just come from that day... the summit of South Twin Mountain (behind the tree on the left) and the grassy bald summit of Mount Guyot (right).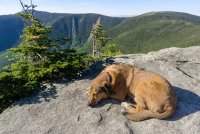 A view from West Bond of the ridge to Bond Cliff Mountain, which I would be hiking the next day. I was really looking forward to doing that ridge walk after seeing it from this vantage point.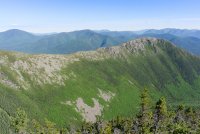 A panorama of Mount Bond (left) and Bond Cliff Mountain (right), part of my route the next day.

Looking back at South Twin Mountain where I just was a few hours ago.
DAY 4
The trail dipping back below treeline before the climb up Mount Bond.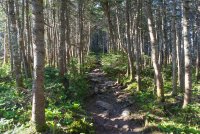 Someone was nice enough to take a pic of me and Lucy atop Mount Bond.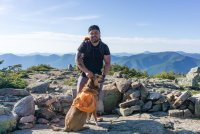 A pano atop Mount Bond. From here I'd drop down onto the ridge right of center to Bond Cliff Mountain (mountain seen right of center).

Lucy waiting for me in front of Bond Cliff.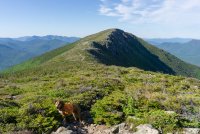 Another pano of Bond Cliff.

Looking back up at Mount Bond from the ridge heading towards Bond Cliff.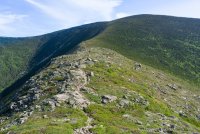 Looking back at West Bond Mountain from Bond Cliff where I had slack packed the night before.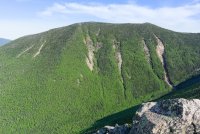 Looking east towards the Mahoosic Mountains of Maine.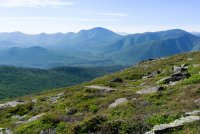 Lucy atop Bond Cliff Mountain. The ridge line across background was our route a few days earlier.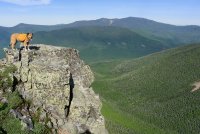 A nice woman I had met at the tentsite took some shots of me and Lucy walking around exploring the summit.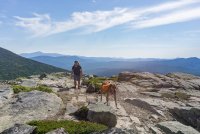 Looking back at West Bond (left) and Mount Bond (right) from Bond Cliff. For obvious reasons this area is referred to as "the Bonds".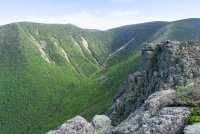 Most of day 1 route and about half of my day 2 route can be seen on the ridge across the Pemi wilderness. I wished I could communicate this to Lucy, but I'd like to think she knew.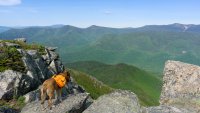 Dropping down from my last peak I could see the Pemigewasset River down in the valley below (center of frame). The trailhead where I began and would end, was somewhere down there along the river.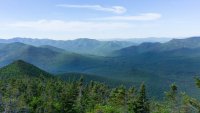 There were some deep mud pits along the way down which I avoided. Lucy however, had a different idea and was very proud of herself for walking right through it. I took this cell phone pic of her before cleaning her off in the river.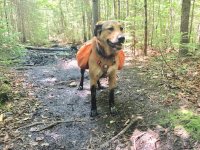 Overall, this was one of my favorite trips and glad that I finally did it. I had plans to do it a few other times over past years but I was forced to cancel due to weather every time. This is the first year that I'm really breaking Lucy in to backpacking and I was extremely happy with how well she did. She doesn't let me out of my sight and never hikes more than about 20' in front of me. She also knows the command "behind" and will hike behind me when I ask her to. She follows me at camp like my shadow and she was well-behaved at all times. Most importantly, I could tell she was thoroughly loving every minute of the experience. I look forward to her being my trusty hiking companion for many years to come.
Thanks for reading!
John
Last edited: