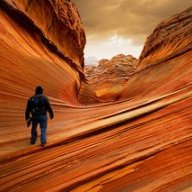 Broadcaster, formerly "ashergrey"
.
Joined

May 5, 2012
Messages

1,724
The following is a transcription of my handwritten journal from a nearly month-long trip down the Grand Canyon of the Colorado. Slight edits have been made to remove personal information.
---
Grand Canyon of the Colorado​
November - December, 2021 with Collin, Graham, Jason, Tyler, Steve and Nick - and me, Dave.
Five rafts and one "lowly" packraft. We launched on November 18, 2021 (thursday) under mostly clear skies. I was nervous for months ahead of this trip, both for the big water and general unease at the unknown.
Our itinerary would have us on the water for 24 days, to December 11. I would miss Thanksgiving w/ family. I would miss work. Still, I did not back out. I was was committed.
The big water to come intimidated me. I am not a technically proficient kayaker. Swimming rapids was a given. But how often would I swim? How big would the wipeouts be? Conceding defeat and riding the canyon as a passenger would be a hit to my pride.
The boating on day 1 was not too demanding. We floated to Soap Creek and made camp above the rapid. Sunset brought some soft pink color and I photographed the rapid.
We took a short hike up the side canyon to a pool covered in green slime. Jason tossed rocks into the pool, breaking the scum. It closed in almost instantly, sealing the wound. (Or maybe this was North Canyon)
On day 2, we floated from Soap Creek to North Canyon. This included a run of House Rock (our first class 7). I chose a run on the far right, avoiding the worst of the rapid. All boats made it through, with rowers impressed by the pushiness.
Day 3 took us through the Roaring 20s. Georgie was a wild ride w/ big waves. Tyler high-sided through the biggest. I swam twice on day 3. At 21 Mile I lost my boat and was rescued by Jason (Tyler caught my boat). No video.
The second swim was in...? I've already forgotten (it will be on video). I kept the boat on swim 2 and self-rescued.
At the start of day 4, all but me went canyoneering through Silver Grotto. We saw one party of 2 exit the canyon on the afternoon of day 3. A solo female exited the canyon behind our group on day 4. She then floated to Fence Fault to hike out. All in the group commented on her heartiness.
Day 4's float (Sunday) took us through deepening walls of Redwall. This section of Marble Canyon was stunning in its beauty.
The waterfall at Vasey's was not running, but I drank from a spring flowing right out of the wall on river right above Nautiloid.
---
Days 5-7​
The days have already started to blur. Day 5 doesn't stand out in my memory (writing this on the afternoon of day 7). We passed President Harding Rapid with some discussion of camping there, but proceeded as planned to our camp downstream. Clouds moved in the night of day 5 and day 6 dawned overcast.
We rowed/paddled into a headwind most of the day. I felt chilled in my little packraft, with my hands perpetually wet. The neoprene balaclava provided some warmth/protection from splash at the expense of fashion and comfort. Our planned stop at 60 Mile camp looked terrible, so we proceeded downriver against an increasing headwind to Above Little Colorado camp. The wind blew sand everywhere, so we tucked our cots up below rock ledges for protection.
Collin and I hiked up from camp before sunset for a view of the confluence. The Little Colorado was running very milky white into the deep emerald of the Colorado.
Clouds broke to the west as the sun set, lighting off the remaining clouds to the east. Collin worked downstream along cliff bands while I walked down to a point just above the water to photograph. Very pretty.
On day 7 (Wednesday), we boated over to the mouth of the Little Colorado and walked up it a short ways.
The sun came out as we went downstream into the Grand Canyon proper. We can see the South Rim come into view. Tanner Rapid is a fun, splashy ride with great views. I'm impressed by the Tanner Trail and may aim to hike it some day. We camp at Cardenas and plan to lay over on day 8 (Thanksgiving).
---
Today is November 25, 2021. Thanksgiving day. The first Thanksgiving I've not spent with family.
I turn 40 in March and there is much about life and about myself I have yet to sort. I'm thinking a great deal about where my next 40 years will take me and who will inhabit that time.
We laid over at Cardenas Camp today. Collin and I hiked down river last night, following trail above Unkar Rapid.
I was able to spy the puebloan structures on the Unker debris fan from our spot above.
We arrived back at camp just as the sky was darkening. I made my first dinner of the trip (chili). It seemed a little short and though no one said anything, I worried people were not able to eat their fill. This morning we actually cooked a full breakfast. Tonight we'll eat turkey dinner, which sounds wonderful as Collin, Graham and I hiked several miles to a high point above Tanner Rapid this afternoon.
A cold night is ahead and tomorrow will bring the excitement of Hance and Sockdolager Rapid. This will be my first major test of courage.
---
Day 10​
The runs of Hance and Sockdolager went perfectly clean. Hance was an easy line in the packraft, though it appeared intimidating. Sockdolager knocked Collin out but he self-rescued. We camped above Clear Creek, which was a beautiful spot on river right in the granite. Before dusk we hiked up Clear Creek to a small waterfall.
I photographed a faint pink sky at sunset looking downstream into the Granite Gorge.
Today (day 10) brought some excitement. We rowed/paddled to the boater beach below Phantom Ranch, parked and hiked up. I mailed postcards. We also spotted the mule train departing toward the South Rim across the hiker bridge.
Heading downstream, we encountered some confusion as to location. We parked above Pipe Creek Rapid, thinking it might be Horn Creek. This notion quickly passed but as I paddled through Pipe Creek, I hit a lateral that rolled me. I self-recovered.
At Horn, Graham, Collin and I were scouting when we realized Jason, Tyler and Steve were running the rapid. Tyler flipped, causing a bit of urgency for the three of us at the scout. And so we pushed off. Graham went first and ran clean. I followed and flipped end-over-end on the second hole. As I attempted to right my boat in the tail waves, Graham rowed up and asked if I needed help or if he should go after Collin. I hadn't realized Collin had flipped, as he was sweep. I gave Graham an ok, sending him after Collin.
It took several attempts to right my boat, leaving me somewhat exhausted. Soon after I climbed on top of my boat, I saw a small Case Logic bag sinking nearby. I fished it out and gave it to Graham to hold for Collin, who was swimming alongside his boat. He immediately realized the bag came from his drybox, which he had failed to latch. Lost in the river were his camera, lenses, iPad and who knows what else. Collin climbed atop his overturn raft and buried his face in his hands. My own heart was still racing from adrenaline but I felt just terrible for Collin.
Recovering the two flipped rafts took time and energy, so we abandoned our plans to run Granite and Hermit, instead stopping to camp just below Salt Creek Rapid.
---
Day 12​
We're camped at Bass Crossing, just upstream of our preferred camp at Bass. Yesterday (day 11) was likely the most grueling of the trip. We started running Granite Falls. I photographed the party from the scout, then Colin took my camera as I ran the rapid.
About 1/3 the way down, I was turned sideways and flipped. It was a long swim. Graham rescued me, as I was quickly separated from the packraft (I'd attempted to roll back upright but failed). Tyler recovered my boat.
We proceeded to Hermit, where by miscommunication I wasted the group's time. I had expected Collin to again eddy out on the left and take my camera.
The whole party eddied out right, expecting me to run w/ my camera. After sorting that out, I ran Hermit clean on the left.
Crystal was a simple right run, but as we proceeded through the Gems temper started to flare. I rolled in one of them (Ruby? one near there) and Jason had the party slow up while I recovered and bailed. Once I rejoined the group, Tyler said he was cold and told Graham to not lollygag. Graham was very upset at the contradictory directions.
We stopped above Bass Rapid and regrouped. I rolled again in Bass, a function of being tired after so many miles and two swims.
That's when we saw another party at Bass, having apparently arrived shortly before us.
As I was setting up my cot, I heard Graham complaining that my photo stop had cost the group its preferred site.
---
Day 14? (December 1)​
On day 13 we floated to Upper Blacktail. We started early, knowing a group of French Canadians were in front of us aiming for the same site. We skipped Elves Chasm (where the Frenchies were stopped) in order to leapfrog them.
Once at Blacktail, we watched the disappointed other group take the Lower Blacktail camp. We hiked through their camp on our way to the top of the Blacktail narrows to canyoneer. We were down the first rappel when the French Canadian party showed up at the top (having followed us). They did not have technical gear to descend after us. The Blacktail slot was short but pretty. We had to build a new deadman anchor for the last rap.
After exiting the canyon, I noticed the eastern sky appeared smoky up high. I took a stroll atop the tapeats (going upriver) chasing sunset photos.
I came across another party (all women) who we'd seen take our preferred site at Bass two days earlier. I do not believe they saw me.
Waking today on day 14, the air was exceptionally smoky. Obviously a large fire had blown smoke across northern Arizona during the night.
The all-women group pulled into our Blacktail camp in the morning (on their way to hike). Collin successfully traded Pringles for cake mix, with which he intends to make dutch oven cobbler.
Our original itinerary called for a five mile float to Fossil Canyon, but Collin and I lobbied to go 10 miles to Galloway. This meant we had to run Specter and Bedrock Rapids.
Specter was fun and not too difficult. Bedrock was a rapid I'd studied and believed I would have no trouble with. This was true. But Steve, in his 18-foot boat, kissed the mid-channel rock and was deflected right, where he was high-centered on a rock. Jason tossed him a tow rope, then pulled Steve free.
At Galloway, Collin and I hiked up Stone Creek. It was a long walk up canyon around several pretty waterfalls. There was supposedly a dwelling site, but we couldn't find it.
---
Day 16​
This morning we learned "the ladies" (the all-female group) has a nickname for us: "Yellow Cake."
We stayed last night at Ledges. They were at Upper Ledges, having arrived well after our party. Ledges was a nice camp with afternoon sun and a dripping spring in which I showered. As the ladies were packing up their camp this morning, one of them lost a helmet into the river. I retrieved it and passed it off to two women who came down in a raft to retrieve it. That is when they revealed the moniker.
Before Ledges, we camped at Keyhole. This camp had a pretty terrible hike. It was simply up a wash choked with boulders, as well as a couple of dry falls. Collin and I both followed sheep trails up the east side of the watercourse and were cliffed out.
While camped at Keyhole, a group of self-support kayakers passed by. They told us the ladies had had two boats go left at Bedrock. We asked the ladies about their Bedrock troubles during our encounter this morning, but they downplayed it.
The big excitement between Keyhole and Ledges was Upset Rapid. Upset looked very intimidating from the scout, but I was able to successfully sneak around the huge waves and holes by hugging the right shore. Collin ran through without a splash, as all the rafts went left. Tyler punched the bottom hole and his raft stood up on end: a sight to see. Thankfully, it stayed upright and Tyler remained in the boat.
Tonight we are at Tuckup. Lava is the day after tomorrow.
---
Day 19 (Tuesday, Dec. 7)​
We are laying over at Whitmore. Two nights ago, we camped at Above Anvil. The float between Tuckup and Anvil was quite miserable. I was chilled the entire time and my right shoulder ached. It seems likely I strained my rotator cuff during the swim at Granite Falls and the days of paddling have not improved the situation. Morale at Anvil camp seemed to reach a nadir. I could not get warm and to make matters worse, the night felt damp.
On day 18, I awoke energized. Listening to some music, doubling my granola bar breakfast and swallowing a pair of Advil helped. Lava awaited.
We set off for Lava, two miles downstream. The scout on river right made the whole rapid appear chaotic. I saw a possible line for myself, but it would require a spot of luck.
I remained at the scout taking photographs while the rafts ran through. All rafts made clean lines and eddied out.
Then I trekked back to my little packraft to make my run.
I entered right on target and punched through the first V wave. Diving into the trough below, I had a momentary thought that I might make a clean run. It was possible.
The left lateral of the second V wave had other ideas. It tossed me to the right and rolled me. The violence of the water from the underside took me by surprise. My legs kicked free of the thigh straps and I grabbed for one, but only caught the spray skirt coaming. The water attempted to tear it from my grip, but my flailing hand caught one of the thigh straps.
The swirl and swell of the water heaved my body. My right hand clamped tight on the shaft of my paddle, the left clung to the boat. It felt as though Lava intended to rip both away from me in opposite directions. A wave crashed over top of me (Kahuna?) and I sputtered, tossed the boat upright and hauled myself back aboard.
I had swam Lava, but successfully self-rescued mid-rapid. This felt like a success, in spite of it falling short of the clean run I'd hoped to make. My voice let loose a primal shout and I pumped my paddle in the air.
The remaining stretch of river between Lava Falls and Whitmore was perhaps the most beautifully curious. Lava flows of various ages cascaded from the right canyon wall. The frozen basalt took interesting shapes: fans, falls, crenelated walls. The black volcanic rock draped over the limestone beneath like a veil. There were entire side canyons filled to their tops with ancient lava.
At Whitmore, I hiked out of the canyon to the rim, leaving GCNP and entering Parashant NM. Seeing a road came as a bit of a shock. This was perhaps the best day of the trip, and I say that even after the adrenaline had faded.
This morning we awoke to a spattering of rain. I dragged the rain fly of my tent over my cot, hoping it would be sufficient. Eventually, the nylon began to wet out and I was forced to emerge from my cocoon in night clothes to erect a proper tent shelter. This will break the streak of tent-free nights for the trip. I had hoped to make it the entire 25 nights.
Today I believe I will walk up Whitmore Wash. Tonight, "Yellow Cake" will feast on cobbler.
---
Day 23? (Friday, December 10)​
It's our last night on the river. We are camped at 220 Mile camp.
From Whitmore to 220 included a stop at 202 and 212 (Fall Canyon). The trip from Whitmore to 202 was sublime. The skies that morning were gray and threatening. Our party spread out, stretching across several miles in silence. I worked to gently keep my boat in the ribbon of current. By mid-morning, the skies had opened and we were graced with sun. As the river trended to the south, the warming rays reached the swirling boils of the surface.
202 to 212 included a return to rapids, with a few fun drops. When we pulled into the indicated site at Fall Canyon, it seemed an unlikely place to camp, as the small beach sat on a cobble bar. As the party began unloading boats, I ventured downstream on foot and discovered a much better site tucked up against a small rock wall on a large eddy. I convinced the group to relocate, even though they'd already set the kitchen tables and toilet.
The relocation ended up being a lucky move as well, as shortly after unloading the boats a second time it began to sprinkle. We lunched under a rock overhang, waiting for the weather to clear. It didn't. It continued to rain all afternoon.
Collin was acting depressed and frustrated. After giving him some solo time, I sought him out to see what was going on. We walked a short way up the wash, dragging chairs to another rock overhang that would provide shelter from the drizzle. We read for a time, then talked for awhile.
I pitched a tent in the rain and cooked my final chili meal under a tarp. We all retired early. In my tent, I read Into Thin Air until I finally felt the urge to sleep. I came awake at about 3:30 a.m. with the need to urinate. The tent fly was still spotted with rain as I peeled it back to walk down tot he river. No stars shone in the sky. Shortly after returning to me tent, the patter of rain again sounded on the taught nylon over my head.
Thankfully, the storm broke shortly before sunrise. For the first time in the trip, I photographed the early morning light.
From 212, it was a very pleasant run to 220. I'd wanted to go to 223.2 Mile camp in hopes of spotting a bobcat (a sign at Phantom Ranch had warned of an aggressive bobcat at 223.2 Miles). Graham had shot down my plan to solo float to 223.2, so upon arriving at camp I set out hiking downstream. This required an ascent of a 200 foot cliff band south of the 22 wash.
The walking along the rim continually pushed me up, so my ascent ended up at about 500 feet, all told. The views were gorgeous, but in the short daylight I was forced to turn back a mile or so short of 223.2.
Probably all the better, but I admit to some disappointment.
The trip ends tomorrow.
"One more sleep until there are no more sleeps."
Last edited: