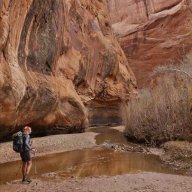 Joined

Jan 4, 2015
Messages

2,746
I know most of us don't really want to relive the debacle that was 2020, but this was actually a highlight of an otherwise terrible year. As spring turned to summer and it became that my planned PCT hike wasn't happening, I made other plans. Those plans involved long-distance hiking, but in a socially distant way. My plan was to drive to the beginning of the route, hike in an 800-mile circle, and resupply at remote road crossings with supplies I'd cache beforehand. The goal was to avoid public transit, hitchhiking, and towns, thus completely eliminating the possibility of spreading the virus. And what better way is there to explore the vast beauty of the Greater Yellowstone Ecosystem than to spend two months in unbroken wilderness?
After spending several days driving to road crossings and burying IGBC-compliant caches, I began my hike on July 1st at Targhee Pass, just west of West Yellowstone, MT.
Section 1: The Tetons
The first section of the route was probably the biggest filler section, and by far the least pleasant. I slogged thru incredibly buggy lowlands, including logging areas just west of the park boundary, and the Bechler River area, which was completely flooded and a veritable hatchery for mosquitoes. They're by far the worst I've ever seen - approaching Arctic levels, I imagine. At one point, I killed seventeen of them with a single random handclap in front of my face. I was suited up from head to toe, wearing my rain mitts in 85-degree weather, sweltering and miserable.
Fortunately, after a few days, I climbed into the Tetons, where the script flipped entirely. I made my way along the crest (or trails near the crest), trudging over much snow, but reveling in the early-season beauty of one of the most spectacular ranges anywhere. Aside from the day where I overlapped with the Park's Teton Crest Trail, I saw nobody. Perhaps it was just a burst of initial picture-taking enthusiasm, but about a third of my photos from the entire 800 miles were taken in the Tetons. It was
that
spectacular.
The section ended at Teton Pass, where I dug up my first cache and prepped for my next section thru some little-known ranges.
Section 2: Snake River & Wyoming Ranges
I definitely didn't do the Snakes justice. I was in large part (75%) following my buddy Pepperflake's route from a couple years earlier, and reading between the lines, I could tell that his route thru the Snakes involved quite a bit of suffering, owing to bad/non-existent trail conditions. So I went a different way, which involved far less bleeding, but also less spectacular scenery. There were some nice wildflowers, but the Snakes were otherwise pretty ho-hum by the outrageously high standards of this hike.
The Wyomings, on the other hand, were incredible. In the first half, I followed a mapped trail that didn't exist. In the second half, I followed an unmapped trail that did exist. Both halves were spectacular. The Wyomings are smeared in a two-toned orange and gray paint scheme, and despite its lack of wilderness designation, I felt this was one of the most "out there" sections of the hike. I must return at some point to visit the southern part of the range, which I unfortunately couldn't justify the detour to, as I was next headed north into the Gros Ventres. To get there though, I had to do the most arduous bushwhack of the entire hike - 4000 feet straight down to the Hoback River, all without a scrap of trail. By time I got to the Hoback, my pant legs were held together by more duct tape than fabric.
Section 3: The Gros Ventres
I began the section with one of the few roadwalks on the route - about 10 miles on dirt. Then I made my way thru a beautiful valley before making the long climb to the crest of the range. I alternated walking on the crest itself, with glacially-carved "shelves" on either side of it. I saw one of the bluest lakes of my life up here, and had picture-perfect weather. I summited a few peaks, and generally reveled in life. A few resupplies in by now, I was brimming with confidence that I could really pull off this "two months without a town stop" grand adventure. The Gros Ventres also really surprised me. I knew they were pretty, but I didn't know that they were every bit as beautiful as the Tetons, but with none of the people or red tape. I loved this section.
The section ended with a boring walk, largely along the CDT, as I transitioned from the Gros Ventres to the Absarokas. I've long held that the CDT takes the worst of all possible routes through the Greater Yellowstone. It's not the CDT's fault of course; it's just that all the most interesting stuff in the GYE is far away from the Divide itself.
Section 4: Absarokas South
I traced almost entirely familiar ground in this section, having done a similar Absarokas trek a few years ago. After a long and circuitous meander up on the lovely Buffalo Plateau, I dropped into a series of passes and valleys in the Thorofare area. This was one area where I "dumbed down" Pepperflake's route significantly. The section was just too long to get bogged down in some truly brutal ridgeline traverses. But I still had my fair share of fun planned for the second half of the section - a series of off-trail passes and traverses.
While following an elk trail that wound its way thru some cliffs in the Deer Creek Pass area, I turned a corner and met a grizzly at close range (7-8 feet), already charging. Trapped between me and the cliffs, he made contact, giving me a good swipe, and charged again. On the second charge, I caught him in the eye with my trekking pole. The force of the collision sent me flying, whereupon i rolled under a tree, covered my neck with one hand, and played dead. I aimed my bear spray behind me with the other hand, but by that point, he was already fleeing the scene.
After laying there for about 10 mins to make sure he was good and gone, I got up, hiked to the nearest main trail (about 1 mi away), did a little first aid, and bailed down that side trail to get medical attention. I caught a ride to the hospital with a good Samaritan, where I was treated for some deep lacerations to my arm and chest. They stitched me up and sent me on my merry way, very grateful to be alive. It took about 2 weeks before I was healed up enough to continue my journey.
Humans and bear stories are like moths and flames, so you can read more about the bear incident
here
if you so choose.
Section 5: Absarokas North
I ended up skipping about 40 miles between Deer Creek Pass and where I resumed my journey at the North Fork Highway. Someday I'd like to go back and fill those miles in, just to see what I'm missing, but for the time being it made more logistical sense to restart my route from the North Fork Highway. Plus, I had no desire to return to the scene of the crime quite yet. Some day, but not immediately. Side note - if anyone finds a pair of microspikes with grizzly claw marks in them near Deer Creek Pass, I'd appreciate those back!
At any rate, the Absarokas North section was a bit of a stinker. The beginning was pretty nice, traveling thru the wonderful Hoodoo Peak area. But then I dove east down toward the Clark Fork Canyon, which turned out to be a very long detour thru low terrain, with pretty underwhelming scenery. I'm sure the Clark Fork is an amazing paddle, but as a hike, it's really not worth it. There's a lot of filler miles to get there and back, and while the inner gorge is beautiful, it was short enough to not make it worth all the miles to get there. Plus the evil vampire mosquitoes from Section 1 returned with a vengeance.
If I had to do it again, I'd continue along the Absaroka Crest toward Cooke City. That route is beautiful, extremely remote, and truly adventurous. I've been skunked on that section once before, and would be keen to try it again.
On the second or third night of this section, a fox tried to sneak up on me as I was eating supper. Still a mite jumpy after the close ursine encounter, I was not amused, and pelted him with rocks until he yowled and slunk away. I saw neither hide nor hair of him the rest of the night.
Section 6: The Beartooths
This is where the character of my route really changed. The first half, up until I got hurt, had involved a lot of off-trail, crazy bushwhacking, scrambling, and high adventure. I had more of the same planned for the Beartooths. But still very much in recovery mode (and unable to lift my arm above the shoulder yet), I had to take a mellower path through the Beartooths. I still did plenty of off-trail (and some scrambling, because I just couldn't help myself!), but I stayed on the Beartooth Plateau rather than venturing into the land of huge climbs and sketchy scrambles on the north side of the crest. Still though, the BT's are beautiful, and I was blessed with great weather and the opportunity to swim constantly - all the better to keep the wound clean!
The section concluded with new terrain for me - the Lake Fork Plateau. It was beautiful, and completely unexpected. I'd spent many hours agonizing over the best route in that area, and yet somehow completely lost sight of how beautiful it was slated to be until I got there and saw it first-hand.
Section 7: Beartooths West
This is really the northernmost extension of the Absarokas, but we've already got 2 Absaroka-named sections. Sorry.
This section was entirely on-trail, owing to some huge and nasty burn areas in the higher, prime terrain. So I followed main corridor trails over just one major pass, Boulder Pass, and down into Yellowstone itself. I'd previously been in Yellowstone for less than a day twice, in sections 1 and 5, but this was the only time I'd need an actual backcountry permit. Smoke moved in as i made my way down the Black Canyon of the Yellowstone, and by time I made it to Mammoth Hot Springs (my only town stop of the GYL, because you're legally prohibited from caching supplies in the park), the sky was a eerie shade of yellow. Guess they'd been smoking too many Marlboros in Oregon and Washington.
Section 8: The Gallatins
This was probably the easiest section of the route, as it was entirely on-trail. It could have been very beautiful too, except for the thick smoke that now overhung the region. I kind of felt like I was hiking on Venus. I spent a couple more nights in the park, having secured a backcountry permit in just in the nick of time before crossing the border in section 7. There was definitely a sense of freedom in leaving the park though, as I could once more camp where I liked, and move at my own pace. One of those nights was spent at Ramshorn Lake, a beautiful alpine lake beneath the watchful gaze of its eponymous craggy peak.
The section concluded with a wonderful walk thru the uppermost part of Hyalite Basin. As i walked down to the highway that separates the Gallatins from the Madisons, the weather, having been so stable all summer, finally started to turn.
Section 9: The Madisons
Weather really forced me onto a lower route here, away from the pass-and-alpine basin roller coaster I'd planned very near the crest of the range. On one such alternate, I looked up and saw a bolt of lightning hit Lone Mountain, where I would have been had it not been for a prudent re-route. Still though, I cruised thru the Spanish Peaks and past the Sphinx. I took several low routes when necessary, but still managed to see some nice stuff. On my last morning, as the rain changed to snow, I dropped down to US 89 and walked (not without irony) a paved highway into West Yellowstone to close the loop - an unfitting end to such a marvelous journey. But this route was never about the purity. I skipped forty miles after the bear attack. I took a more conservative route after that injury. And yet, the route felt complete. The route began just as the snow was melting. It ended juts as it began falling again. It was a full season spent in the greatest, wildest, and most complete ecosystem of the mid-latitudes.
And I'm alive. Praise God for that.
Last edited: