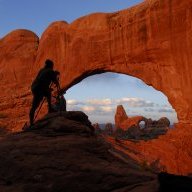 Feed the Rangers, not the wildlife!
Joined

Jan 27, 2012
Messages

46
Quick links to all trip reports in this series:
Part 1 | Part 2 | Part 3 | Part 4 | Part 5 | Part 6 | Part 7 | Part 8 | Part 9
I told you all that I might do this. Don't say I didn't warn you. I don't want to hear any "Ohhh, I thought we were finished with this trip when you blew that tire."
Anyhoo, Linda had a camera as well, and I thought I'd put up a few of her shots as well, plus some other odds and ends as well. Heck, I pretty much only post on this forum once a year anyway, so it's not like I'm a bandwidth hog.
This was taken at the finest restaurant in Walsenburg, Colorado...the Pizza Hut.

I'm apparently taking a picture with my smart phone, or playing Angry Birds...not sure which.
This was at a scenic overlook near Wolf Creek Pass or Wolf Head Pass or Wolf Butt Pass...something like that...between Alamosa and Durango. We saw one chipmunk there that appeared to weigh 40 pounds...fattest chipmunk I ever saw. This isn't him...he wasn't able to get over the stone wall in the background. Remember, Ranger Joe says, "Feed the Rangers, not the wildlife."
We saw this stuff growing along the Medano Pass trail in the Great Sand Dunes National Preserve. It's hops, which even the ranger at the Visitor Center didn't know they had growing there until we showed her the picture.
Why am I smiling like an idiot? Because I'm driving my Jeep in the mountains of Colorado, that's why. Also, because I can't help it.
Trying to decide whether I want to drive or take pictures. I've gotten pretty good at sticking the camera up through the sunroof and firing away...I just need to remember to open the sunroof first.

An Oreo cow somewhere along the Last Dollar Road near Ridgway.
If anybody is familiar with George Carlin's "Filthy Words" routine, you'll know what I'm doing. (Look on Youtube...it's NSFW, so I won't post a link...it's at about the 7-minute mark.)

We met a fellow Liberteer at the Jamboree...everybody wave at the handsome young man in the stylish hat, JeepNCrowd!
I'm not sure exactly what I'm doing here...I thought I might have been making a sammich, but that's Linda's job.
That's me down by the river, taking photos of the Crystal Mill.
I loved this road leading down into the Devil's Punchbowl.
Taking pictures at Maroon Lake, wearing my invisible pants.
Here I am at Mosquito Pass, assuring the driver and his wife that the road ahead was no worse than what they had already experienced.
Here's an extra added bonus...video of the road to Ouray, US 550, shot by our Contour camera mounted to the hood of the Libby, then sped up four times normal speed.
This was shot along the Alpine Loop scenic byway, as we play in the mud.
This is footage of our descent of Black Bear Pass.
And last but not least, footage of the Libby climbing the Wall in Poughkeepsie Gulch.
So how much does it cost to drive from Ohio to Colorado and back? According to our records, we spent $971.29 on gasoline, covering 4269 miles. The most we spent on gas was $4.19 in Ouray, the least was $3.59 in Walsenberg. We averaged 16 mpg, which is a lot better than I expected. We had one tank of gas that we bought in Dillon that must have been fortified with plutonium 239, because we got almost 20 mpg on that tank driving up to Rocky Mountain NP and then into Boulder...I actually thought the gas gauge was broken because the needle was barely moving.
I don't have the details yet on what we spent on motels. We stayed in Super 8's, Days Inns and Best Westerns, and never spent more than $100 for a room, even at the BW in Ouray for six days. If you ever make it to Ouray, the BW there is very nice...they have comfy rooms, hot springs and a great breakfast.
It was worth every penny.
For reference materials, I recommend three books: Colorado Backroads & 4-wheel-drive Trails by Charles Wells, 3rd edition. Get the version with the spiral binding...makes it easier to keep open while driving. The other two are Colorado Trails Central Region and Colorado Trails Southwest Region, both by Peter Massey, Jeanne Wilson and Angela Titus. All three books can be bought on Amazon for less than $20 each. We also used Trails Illustrated topo maps of the Ouray area and the Maroon Bells area, also available on Amazon. These books and maps can also be bought at stores in the various local towns, but expect to pay full price.
That's it, kiddies. Save up your pennies, do some research and get your collective butts out there and experience what we did. It's better to do these things while you're able, than sit around in a rocking chair in 30 years saying, "Gee, I wish I'd done that when I was younger and still had a Jeep instead of this motorized scooter."
Until next year...
Quick links to all trip reports in this series:
Part 1 | Part 2 | Part 3 | Part 4 | Part 5 | Part 6 | Part 7 | Part 8 | Part 9