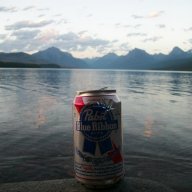 Joined

Apr 1, 2014
Messages

878
Here is a report from a solo trip I did in early May, 2014. I backpacked into the Maze starting from (and finishing) at the North Point Road, near the Hans Flat Ranger station. The most memorable part of this trip (although not at that moment) was a 24 hours span of rain during which I witnesses an incredible display of flooding. I had no planned itinerary when I started, and just played it by ear for 8 days.

Click the HD button when viewing videos.
Standing at the park boundary
https://www.facebook.com/photo.php?fbid=10152688682539766&l=db32ef6d49
Day 1
After spending the night in my van, I parked at the junction with the North Point Road, and walked east to the trailhead. I was heading for the Maze Overlook. I dropped down steeply into the canyon, maybe 1000ft, and continued east on the trail along a dry wash. Soon the canyon opened up, and I enjoyed a nice open vista of plateaus and buttes. It was extremely windy, things were dusty, but thankfully cool. After about 6 miles I reached the 4wd road, and continued east towards the overlook. This section of the hike is actually in the Glen Canyon NRA.
At the road junction
A few miles later I entered Canyonlands.

Views from along the Maze Overlook Road
Another few miles and I reached the overlook. I enjoyed a fantastic view of the Maze. It was completely overcast, and the canyon walls were rich in color. I left the road on the trail that drops into the canyon, and in short time I was down on the floor. Water was plentiful, and I found a campsite a little ways up canyon from the Harvest Scene.
Looking north from the Maze Overlook

Looking out at the Chocolate Drops from the Maze Overlook



Harvest Scene



First Nights Camp


Day 2
I spent the first part of the morning exploring side canyons, and decided to camp in the same spot for another night. I took off up canyon towards The Plug, exploring all the side canyons along the way. This section of canyons reminds me of walking in downtown New York City, with all the sky scrapers rising above you. High canyon walls hovered over me everywhere I looked, and literally a maze of canyons went off in every direction, just like back avenues. The colors in the rock were phenomenal, along with a good mix of cottonwoods trees, Junipers, and Pinyon Pine. Things started getting windy, and a sunny morning turned into a dark afternoon, with a few sprinkles here and there. I made my way up to Lizard Rock and The Plug, and traveled east along the 4wd road a mile to Chimney Rock. I dropped down back into the canyon here, and made it back to camp shortly before dark.
Hiking towards the Plug in the wind
Standing Rock
The road to the Doll House
Lizard Rock, The Plug, and Standing Rock
Chimney Rock
Heading back down to camp
Back at camp for night 2
Day 3
I packed up my camp, and hiked up the trail to the canyon rim south of Petes Mesa. The sky was dark and cloudy again, but still nothing more than sprinkles. From the rim I had spectacular views to the east and south (really every direction), with Jasper Canyon below me, the Doll House to the south, and Grandview Mesa off to the east rising above all several layers of plateaus.

Overlooking Jasper Canyon
I slowly headed south, my only reason for moving being the weather. I reached Chimney Rock again, and from here followed the route down into Shot Canyon. The skies suddenly opened up, and it warmed up quite a bit. Down in the open canyon, wildflowers were blooming everywhere. All different kinds and colors. It was beautiful.

Hiking thru Shot Canyon
After exploring Shot Canyon for a while, I crossed over into Water Canyon. I ran into a few fellows from SLC who had a camp right there, and we talked for a long while about the area. They had been coming here for years, one fellow since the 1960's. After wards, I headed up Water Canyon a little ways and set up camp on the rock with a beautiful view around me.
Dropping over to Water Canyon
A view from camp in Water Canyon
Day 4
I slept in a while, and got a very late start. I hiked south towards the Doll House, again passing thru a beautiful collection of wildflowers. After walking thru an open park, I headed for the confluence overlook, and looked down on both the Green and Colorado rivers.

Leaving Water Canyon

Looking back at where I came from, inside the park



Me at the confluence overlook, which is barely visible in the right hand corner
The sunny morning again turned into an overcast afternoon, along with lots of wind, and I headed back towards the Doll House. Not to far from Beehive Arch, I found water. I decided to camp near the water hole for the night. I explored around looking for a campsite for several hours, dodging rain a few times, and managing to see a lot of the side canyons in doing so. I settled on a spot somewhat sheltered from the wind, and set up camp for the night.
Camp Night 4
Day 5
I had big plans for the day, and was unsure about any water sources for the next few days. So I filled up 2.5 gallons of water by my camp, and made my way to the Doll House. The sky was dark and gloomy. I was hoping for rain at some point, since it would give me water sources for the next few days. At the Doll House, I hid my pack, and hiked around for an hour. I saw several people, along with nice vistas of Spanish Bottoms and Surprise Valley.
The road leading to the first 2 Doll House Camps

Views from around the Doll House



Surprise Valley





Spanish Bottoms



Me leaving the Doll House



Heading off towards the Fins
I retrieved my pack, and headed towards the Fins. It sprinkled off and on as I made my way into Wide Valley. More wildflowers were here, and even with the dark skies they were beautiful. Soon I reached the first large canyon in the Fins area, and headed up it. A mile or so later I found a nice spot to set up camp, with a wonderful overlook of 4 different canyons.

Wide Valley

Hiking down Wide Valley towards the Fins



At the first main canyon, where I headed north to camp



One view of camp 5

After setting up, I continued up the canyon, exploring every side wash I came across. To my delight I found several pools of water in the rock. I wore myself out, and by the time I reached the end of the canyon, I was exhausted. I laid down for a bit, but it was close to dark, and I had to get back to camp. As I hiked back, I started to hear thunder, and the clouds became scarier. I reached camp at dark, and ate dinner as a loud thunderstorm went overhead. Still no rain, I sat outside my tent, and watched one heck of a lightning storm light up the sky far off to the south. I was hoping I missed the brunt of it, but to my dismay another storm soon came over my camp. And then it rained. All night. I continued sitting under an overhang near camp, and soon watched waterfalls start appearing all around me, running off the rock walls. I went to bed to the sound of water rushing down the main canyon.
Exploring Side Canyons

Views from the main canyon wash



Cool clouds



Almost back to camp



Another view from my camp
Day 6
I woke up at dawn to more rain, and soon the main canyon flashed again. The rain lightened up a little, and I got out of my tent to take a few pictures. I then noticed some rocks had fallen a few feet from my tent, from underneath the overhang I was camped near. Water was seeping thru the rock, and caused a few pieces to break off.

A shot from early in the morning, with water running in the wash


Me with a fake smile waiting out rain at camp


Soon the skies sort of cleared, and the sun showed its face. I packed up camp, thankfully able to dry out my tent fly. I put my pack under the overhang, and headed up canyon to fill up water from a clear water hole. To my dismay, more storms came in fast, and soon I found myself under another overhang as lighting and thunder filled the air around me. It dumped again, round 3. Within minutes, a waterfall was pouring overhead, and it just got larger and larger. Another impressive flood came down the main wash, and I got rather chilly huddled up in my cave, thankfully dry.
Waiting out the rain during the thunderstorm
When this storm finally stopped, I went back to check on my pack (it was fine). I was still holding out hope the weather would clear, and I wanted to get over to the next canyon, the one thru the middle of the Fins. So I took off to the south, already past noon. It wasn't long before I could see the next wave of storms coming. A wall of rain was approaching from Wide Valley. At the last moment, I took shelter up against a slick rock wall, beneath a large tree. Soon it started hailing, and everything was white. I knew the routine. First, a small waterfall appeared close by, then it got larger, and larger, and larger. Eventually it was raining so hard, water was coming down every part of the slick rock behind me, like one wide slip n slide. After this passed, I was left with a few creeks to ford, and I felt like I was hiking in a marsh.
After the hail and rain stopped
The main wash wasn't flooding at the moment, and I continued down it, until reaching a side wash that was flooding. I knew it was still raining farther north, and that it was only a matter of time before another flood came down. I actually had my Go Pro running when the second wash flooded. It created a pretty awesome scene.
When the main wash flooded with the second wash
Flood Pictures
Several short clips of flooding
Hiking along the flooded wash
I carefully followed the newly formed river south a ways, before cutting over to the middle canyon. Naturally, the wash here was flooding too. The entrance to this canyon is enchanting, like your on a ride at Disney World. All the running water made it even better. Its a somewhat narrow canyon with low walls, switching back and forth a few times, with spines of rock that look like shark fins hovering high above along both sides. Then it opens up into an open park, completely surrounded by more fins. Here the main canyon splits in two.


Walking into the Fins
I needed to find a place to camp, and wanted something sheltered. I took my pack off, and hid it under an overhang to stay dry. Then I took off to find a campsite. I ended up walking for several hours. It was incredible. I was in this amazing place and had it all to myself. Not to mention it was currently a water park. Forget Disney World, I was at Wet N Wild! Despite being cold and wet I got lost in time. After a while another huge downpour started, and I took shelter under rock. I knew the process. Moments later, I was again behind a waterfall.

Dodging the last storm
When the rain finally lightened up, and I made it back to the main wash, it was a challenge to cross. The water was roaring, and above my knees in places. Carefully I retrieved my pack and decided to just make camp under a group of trees nearby.
Camp night 6 in the main canyon of the Fins
The Fins
Video of camp night 6
(A side note: I wasn't done with this storms wrath just yet. It dumped a lot of snow on the Aquarius Plateau. It would melt out the following week, and run off into the Escalante River, where I was doing another trip. The river was above my waste for 3 days.)
Day 7
I was excited to see sunshine when I woke up.

Me at camp in the morning
I took some time drying things out, and took a side trip up to Tibbett Arch. All the washes were damp, but no longer had running water.

Hiking over to Tibbet Arch

Tibbett Arch




The Fins
Eventually I left the Fins, and made my way over to Whitmore Arch, hiking right thru it, and then worked my way up the slick rock to the top of the plateau.

About to walk thru Whitmore Arch

Back to the road
Soon I was back to the 4wd road, and followed it briefly before dropping into the South Fork of Horse Canyon. This canyon has a wonderful feel to it, and there are plenty of nice campsites along the way. Water was everywhere, and I took my time hiking down. I ended up hiking until dark, where I finally set up camp near a small bend not far from the Maze Overlook trail. As I set up camp, the moon rose brightly above me, lighting up the canyon walls. It was the first time I had seen the moon in a long time.
South Fork Horse Canyon

My final camp
Day 8
I woke up early this morning, having a long day ahead of me. I wanted to hike out today, and make it to Torrey in time for dinner and a shower. Its a long stretch back to my van, and quite exposed to the sun. Thankfully it was windy, and there was a slight cool front coming thru. I was able to hike without over heating, and made it out by 4pm.
The UNEDITED video of me hiking up to the Maze Overlook. (I don't have my editing software at the moment)
The End. Thanks for reading.

Featured image for home page: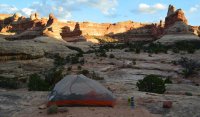 Last edited: