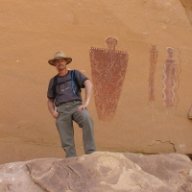 Joined

Jun 14, 2012
Messages

715
Earlier this year my Son and I were invited to join the Scout troop on their semi-annual "50 miler" backpacking trip in the Uintas. I have been wanting to do something like this for years and it sounded like fun to my son Logan, so we accepted the invite and started preparing.
As things worked out, we didn't actually hike with the Scouts, but rather with a separate "neighborhood" group. We intentionally stayed as separate as possible from the Scouts for the entire trip. We avoided hiking together and camped at different lakes. So, even though this all started as an invite from the Scouts, we actually ended up barely even seeing the Scouts during the trip. There were 12 of us total in our group. I was kind of worried how this was going to go over, doing a trip like this with a large group of essentially strangers. But, it all worked out fantastic. Logan and I operated as if it were just the two of us for the most part, and nobody took offense. Everyone was great, I made new friends and enjoyed everyone's company. I would gladly do this trip again with the same group.
We got started on the morning of Monday, July 30th, by being dropped off at the Highline trail head near Mirror Lake. Getting everyone lined out, packs on, the two groups sufficiently separated etc. all took quite awhile and we were pretty late actually hitting the trail. Which was hard on me. I'd been stoked to get this show on the road for weeks! Standing around the trail head waiting for everyone to get their crap in the right pile was probably the hardest part of the whole trip for me. I wanted to go! Finally, we did get moving. Here is our group after getting started on the trail that first morning.
And Logan at our lunch stop, woofing down some of the salami and cheese I'd picked up at the last minute the night before after getting a BP'ing food thread going here on BCP.
We stopped for camp that afternoon just west of Rocky Sea Pass near Pigeon Milk spring. The water from Pigeon Milk was cloudy, hence the name I'm guessing (and due to glacial powder I'm further guessing), but super cold and good tasting. After getting our tent setup, we decided to walk over into Four Lakes Basin and fish for the evening.
We fished Jean lake, where the fishing was pretty slow, but we did catch a couple small brookies before hiking back to camp and eating dinner.
More...