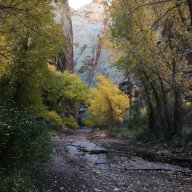 Joined

Mar 27, 2015
Messages

170
After this trip report I will be caught up on all my big adventures from last year. A year ago we made the trip down to Canyonlands to do some backpacking. We had originally planned on 5-6 of us going, but due to various circumstances only three of us were able to make it. This was the first time that I had really spent any significant time in the Needles district. The plan was to make it to Chesler Park the first night, then into Squaw Canyon the second night.
We ran into day hikers on a frequent basis. I have always found the different interactions with people I have had on trail to be interesting. One minute you talk to someone who clearly doesn't spend much time outdoors, and the next you are talking to someone who knows more about the area than you (I am by no means an expert on Canyonlands). It's cool to meet all these different people. I haven't had a bad experience with it yet.
Then in no time we made it to Chesler Park. We got there in time to set up camp, eat dinner, and enjoy the sunset. The sunset did not disappoint. One day I am going to have to learn how to take pictures at night, because the stars were so impressive.
The plan for the second day was to make our way over to Squaw Canyon.
When we reached the junction for Druid Arch, the other two people in the group decided that they didn't want to go down to see the Arch. So we continued on our way. By noon we had made our way to the set of ladders that drop you over into Squaw Canyon. We stopped there and had lunch while we rested in the shade.
The next place we stopped at was right before you work your way through the little slot canyon, This was another spot that we ran into some more people. After a quick break we went the rest of the way to our campsite.
We got to camp a lot earlier than expected, so I took a nap. We spent the remainder of the evening talking about the trip and planning future ones. The next day it was only two miles back to the car.
This was a very successful backpacking trip. I enjoyed every part of it. I can't understand how someone could come to a place like this and not enjoy it. I guess it's just a matter of different interests/hobbies. Ever since I went to the Needles District I have set my sights on the Maze District. I hope to be there soon.
Now that I am all caught up on trip reports, I will do better about posting them as they happen. This website has a great group of people on it, and I am happy to be a part of it.