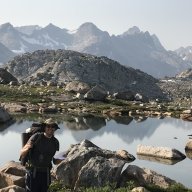 Joined

Mar 1, 2015
Messages

552
I would like to do a 3-day backpacking trip in Southern Utah with my 11-year-old son the Thurs-Sat after Memorial Day (straddling the end of May and the beginning of June). I don't like hiking in the heat---in the past, I've done Utah trips in April or late October---so at that time of year I'm only interested in doing something with a lot of water to cool off in. I'm assuming Escalante is where I should be looking? If so, I don't know that area (it's very far from Denver!), so any suggestions are greatly appreciated! Here are some criteria/requirements:

-My son has been on 5 backpacking trips with me, but all of those have been in the CO mountains and he has very little scrambling/canyon experience. So nothing beyond basic/beginner-level scrambling. Also, any full swims for him should probably be fairly short. I'm fine with some off-trail navigation, but nothing too crazy.

-As a point of reference, last summer we did a 3-day trip that covered 18 miles and 3k ft of elevation gain/loss, so a little more than that would be fine this year. Less mileage/elevation gain would also be fine, as long as there is sufficient opportunity for side explorations. So basically, something in the 15-20 mile range or so. I would like to have three full days of hiking (we will drive on Wed and Sun)

-Desired highlights: lush desert oasis, swimming holes and/or waterfalls and/or hiking in stream/creek (regular opportunity to cool off), fun slickrock hiking/scrambling, slots/narrow canyons, rock art, solitude (perhaps impossible to find all of these I know)

-Want to avoid: long slogs through the desert heat (even if it's spectacular), bugs (please let me know if biting flies or no-see-ums or the like will be out by early June)

-trailhead must be accessible by a Subaru Outback

My first thought was lower Death Hollow (BMT to HWY12 bridge)---I planned a tentative trip there last year that got cancelled---but I'm worried that the poison ivy there might forever ruin my son's love for the outdoors. I'm also worried that it might be too long of a slog through the heat on the way in and out, and I'm not sure about the exposure (for him) on the BMT. So I think I'll save this one to do solo at a different time.

Coyote Gulch:
-Enough consistent water to cool off in? In most of the pics I've seen, the water is ankle-deep
-too crowded? I'm fine seeing other people, but want to be able to find a flat quiet campsite fairly easily (doesn't need to be spectacular, just reasonably close to water and flat and quiet), and use the bathroom in solitude

Fortymile/Willow:
-Too hard/exposed for son? (and for me for that matter) I haven't read up on this much yet, but I seem to recall mention of a class 3/4 section?

I really don't know much about Escalante, so if you even point me in the right direction, I can research it more. Any other suggestions (including hikes elsewhere on the CO Plateau), or tips on the above ideas, are greatly appreciated!